Car Boot Sales in the Brighton and Hove Area
24th August 2009
Author: Team at thebestof Brighton & Hove
Comments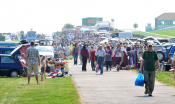 Last updated Monday 5th January 2016
Here are a few local car booties in Brighton if you want to make some extra cash or find that priceless treasure!
Feel free to suggest other boot sales in the comments below if you know of any regular ones that aren't listed here.
Need a Taxi? Call recommended Brighton & Hove Radio Cabs for a Door to Door quote. Call 01273 204060 or 1273 414141.
---
Brighton Racecourse
Freshfield Road, Brighton, East Sussex, BN2 9XZ
Every Sunday.
(Car Boot sale on the market site)
11am - 4pm
Sellers:
Cars - £12
Vans - £15
Trailers - £5
Sellers are advised to arrive between 9:30am and 12pm
Buyers - 70p
Children - FREE
Phone:  07725910304
Email: info@brightoncarbootsales.co.uk
Website: http://www.brightoncarbootsale.co.uk/
---
Brighton Marina Boot Market
Brighton Marina, Brighton, EAST SUSSEX BN2 5WA
Every Sunday from 7am until 1pm
Brighton's biggest weekly boot sale, vintage and antique market takes place every Sunday at Brighton Marina on level 9 of the multi story car park.
This market, one of the most established in the city, has successfully operated for over 27 years and boasts over 200 pitches ranging from alternative and vintage fashion, through to antiques and art and is renowned for its fantastic bargains. Many of the traders travel regularly from all parts of Europe to sell their antiques and brick-a-brack, offering visitors incredible choice amidst a friendly and bohemian atmosphere.
The market organisers embrace a wide range of tastes and cultures that reflect the population of Brighton & Hove. 
With over 200 stalls to browse through, it is a must do for every Sunday Morning.  Sellers access from 5am - 7am with pitches at £12 each.
The boot market operates on a first come first serve basis.
More info:
http://www.brightonmarinagiantcarboot.co.uk/ 
Disabled Parking on Level 8. Organiser John Ewer 07885 205105.
---
Carden School Car Boot Sale - Sundays only from April to October
Carden Hill (Near Asda), Hollingbury, Brighton BN1 8LU
Sundays only from April to October. 7am onwards.
FREE Admission. Car parking 50p.
Separate Disabled Parking Area.

Hot Foods Available and Ice cream van.

Fruit, Vegetable and Plant Stall.

Real Toilets Available.

Bouncy Castle.
Seller information:
All pitches £10, including vans and trailers.

Pay on entry. NO NEED TO BOOK YOUR PITCH!

Open 7am until noon.

No dogs allowed.

All persons enter at own risk.

No Food Sellers.


Find us on Facebook
Phone: 07887 828031
---
Car Boot Sales Poynings & Sayers Common
Every Sunday and Bank Holiday Monday
A regular Sunday Car Boot alternating between Poynings and Sayers Common
Poynings Car Boot Fair - MARCH onwards
Brighton Road Henfield BN6 9EA
Situated on the A281 south of Henfield on the road leading from Brighton
Sundays (alternates with Sayers Common below)
Sellers : From 9.00am Buyers From 10.00am
Cars £9.00
Vans from £15- £35 depending on size of pitch required
All Vehicles marshalled parking £1.50
Contact details : 01903 871221
More info : http://www.megacarbootsale.co.uk/
Sayers Common Car Boot Sale - MARCH onwards
Mill Lane Sayers Common BN6 9HN
Sundays (alternates with Poynings above)
Cars : £9.00
Small Vans £15 (m) Vans £25 (l) Vans £35.
Parking - £1.50 per car
Sellers : from 9.00 am Buyers from 10.00 am
See http://www.megacarbootsale.co.uk for more details
---
Shoreham Flyover Car Boot - Starts in May 
Steyning Road, Shoreham-by-Sea West Sussex , BN43 5FD
Shoreham Flyover Car Boot Sale is located just off the A27 and A283 going towards Steyning, for a map and directions please click here to view the map.
Every Sunday. Our Car Boot Sale season starts on the last sunday in May and then every sunday through the summer, weather and ground conditions permitting. We are on an open field site and cancel  for ground conditions or rain. Check our website below to be sure.
Sellers from 7am, Public from 8am.
Fees:
Cars - £9.00

Trailers from- £2.00

Vans from - £11.00

no unauthorised food or drink stalls

Car Parking - 80p
No need to book, just turn up.
Phone : 07970 257944
More info : www.shorehamflyovercarbootsale.co.uk/
---
Shoreham Adur Recreation Ground Car Boot - April to September 
Regularly on Saturdays between April and September
For dates & info click here:
http://www.adur-worthing.gov.uk/car-boot-sales/
---
Last updated Monday 5th January 2016
2016 season - I have compiled a list of the most regular and popular Car Boot Sales in the Brighton and Hove area.
The list has boot sales location addresses and contact details, pitch and entry charges and dates and opening times, correct at the time of entry.