Your guide to things to do in Farnham – 6th December to 19th December
Here's what going on in and around Farnham over the next couple of weeks, there really is something for everyone.
Friday 6 December
1st Friday Live Sessions at The Wheatsheaf  Enjoy live music every First Friday of the month.
Rushmoor 'Odd Fellows' Male Voice Choir Christmas Concert  The Odds Christmas Concert with guests St Lawrence Handbell Ringers in aid of Farnham Hospital.
Saturday 7 December
Christmas Arts and Crafts Fair  The Plough, Farnham will be hosting a wide variety of stalls to browse, along with delicious food and beverages from the bar.
Spire Church Christmas Fayre  Do your Christmas Shopping early at the Spire Church, with many attractive stalls and refreshments.
Ruiz JR vs Joshua 2 live at The Cricketers  Enjoy the rematch of Andy Ruiz Jr vs Anthony Joshua, following their first fight in June this year.
Rat Pack Tribute Evening with Stuart Wilson  An evening of live music and delicious four course meze for just £30 at Yiayias at The Fox.
Sunday 8 December
Farnham Christmas Market   Celebrate the run up to Christmas by visiting this hugely popular Christmas Market.
The Yacht Club LIVE at the Plough  Live music featuring New Orlean's-style jazz and soul from 'The Yacht Club' from 3pm.
Monday 9 December
Farnham Speakers Club  Become a better speaker and improve your self-confidence.
Tuesday 10 December
Rhymetime at Farnham Library  Songs and nursery rhymes for under 5's every Tuesday.
Wednesday 11 December
Christmas Cookery Session for Children  A fun session of biscuit making and cupcake decorating for children, after school at Hale Community Centre. Just £3 per child.
Thursday 12 December
Farnham Business Connections Networking Events  Special Christmas lunch time meeting at Caffe Piccolo in Farnham. This will be a great opportunity to socialise, meet other local business owners and enjoy a 2 course Italian lunch and drink.
Christmas Readings at the Museum of Farnham  Enjoy the museum in it's festive glory and an entertaining evening of Christmas readings on either the 12th or 13th December, from 7.00pm. 
Friday 13 December
Magical Christmas at Bears  An evening of live classic Christmas tunes along with a festive three course menu all for just £28.95 per person.
Saturday 14 December
Farnham Repair Café  Volunteers offer free help with repairs to clothes and textiles, electrical, laptops, mechanical, furniture and bikes.
Jukebox Junkies LIVE at the Plough  Back by popular demand the Jukebox Junkies will perform an evening of live entertainment.
Sunday 15 December
Santa and Elf Fun Run   A festive fun run for the whole family in aid of Phyllis Tuckwell. Everyone who takes part will receive a Santa suit (or elf hats for children), a medal and a festive treat!
Monday 16 December
Christmas storytime and community coffee morning  Meet Mother Christmas and enjoy Christmas stories at Farnham Library. Everyone is welcome.
Tuesday 17 December 
Phyllis Tuckwell Open House  Every Tuesday Phyllis Tuckwell open their doors for Open House afternoons, so that you can find out more about the care and support they offer.
Wednesday 18 December
Cafe Culture Farnham  Cafe Culture provides anyone aged 50+ an opportunity to enjoy a weekly get-together.
Thursday 19 December
The OPA! Experience  Join Yiayias at The Fox for their hugely popular OPA! Experience where they show you how the Greeks and Cypriots like to party!
Christmas A-Go-Go With Miss Hope Springs  Jazz At The Ivy Room presents a Comedy Night Christmas Cabaret Special.
Coming Soon…
Adele Tribute Evening with Maria Herriott  An evening of live music and delicious four course meze for just £30 at Yiayias at The Fox.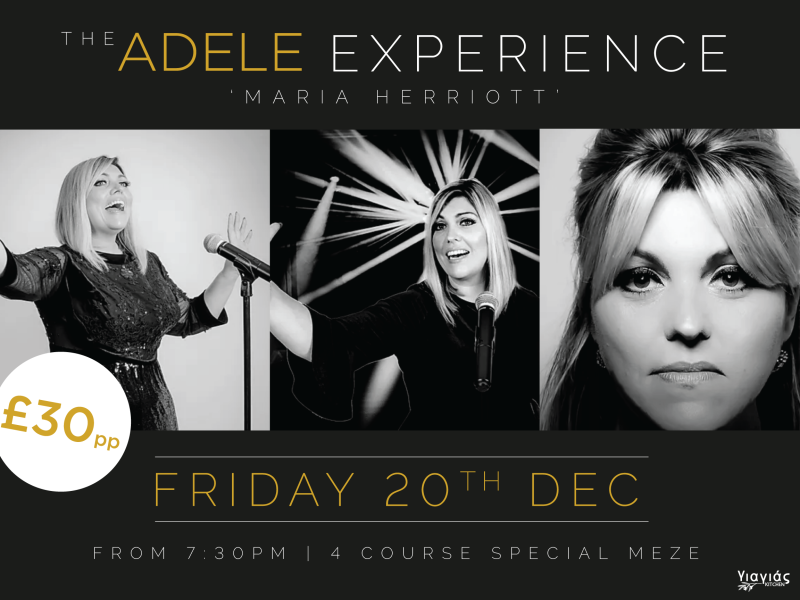 For further details about all these events and to find things to do in and around Farnham, please visit our Events page HERE  
If you'd like to maximise the audience for your events add them to thebestof Farnham website HERE – and we'll promote them to thousands of local people.  
To keep up to date with everything that's happening locally, great offers and trusted local businesses register for email updates HERE.