Your guide to things to do in Farnham – 30th March to 12th April
Here's what going on in and around Farnham over the next couple of weeks, there really is something for everyone.
Friday 30 March
Transmission - live at The Plough  Another weekend of free live music performances at The Plough.
Saturday 31 March 
Steam Toy Rally  Step back in time and take a nostalgic look at these vintage toys of yesteryear.
Aldershot Car Boot Sale  Rain or shine grab a bargain every Saturday morning at this under cover venue.
Brodie's Pro Collection - live at The Plough  The Plough's own resident musician will be performing
Sunday 1 April 
Easter Sunday at Borellis  Offering the full Borellis menu plus their hugely successful pizza menu and great drinks deals it is the perfect opportunity to catch up with your favourite people.
Easter at The Fox  Celebrate Easter with friends at family at The Fox, Farnham and enjoy a 3 course meal for just £26.
Phyllis Tuckwell Plant Sale  Large variety of plants and shrubs for sale at bargain prices!
Car Boot Sales at Nut Hill Fruit Farm Car Boot Sale Just Off the A3,  Rural Life Centre Car Boot Sale and Car Boot Sale at Country Market Bordon depending on the weather!
Easter Sunday and Bank Holiday Monday
Easter Eggstravaganza  Easter themed activities on both Sunday and Monday at The Rural Life Centre.
Tuesday 3 April
Phyllis Tuckwell Open House  Every Tuesday Phyllis Tuckwell open their doors for Open House afternoons, so that you can find out more about the care and support they offer.
Wednesday 4 April
Easter! A Twist in the Tale  Join the Museum of Farnham for a fun filled session, with crafts inspired by popular children's books.
Heartstart Free Life Saving Courses In Farnham  Do you know what to do in an emergency? FREE life saving courses in Farnham.
Thursday 5 April
Farnham Business Connections coffee morning  Held monthly at ChoLily's Coffee Shop, local businesses are invited to meet for informal networking coffee and a croissant.  
Fantastic Forests Craft Club  Holiday club for children, combining outdoor exploration and indoor crafts.
Jackie Lynton Band  A night of live blues music with Boogaloo Promotions at the Farnham Maltings.
Vinyl Night at The Plough  The Plough in Farnham is offering the opportunity to share the sounds of your favourite vinyls.
Friday 6 April
A Room With A Jew: Joe Bor  An hour of hilarious stand up comedy from Jewish Comedian of the year Joe Bor.
The Juke Box Junkies - Live At The Plough  If you love live music The Plough is the place to be this Friday night.
Saturday 7 April
Maltings Monthly Market  Over 200 stalls showcasing the best independent craftspeople, emerging designer makers, food producers and traders.
The Blues Casters - live at The Plough  Another weekend of free live music performances at The Plough, Farnham.
Sunday 8 April 
Farnham Classic and Vintage Car Show  A family day out to see an array of classic and vintage cars, motorcycles and ex-Army vehicles and an autojumble!
Monday 9 April
Farnham Speakers Club  Become a better speaker and improve your self-confidence.
Wednesday 11 April  
Car Boot Sale at Country Market Bordon  Based on the outskirts of Farnham, Country Market holds regular car boot sales every week.
The Plough Jam Night  Meet fellow musicians, experiment and have fun at The Plough's Wednesday Jam nights.
Thursday 12 April 
Easter Xplorer  Explore Farnham Park, find the markers, complete the challenge and have fun during the Easter half term!
Farnham Business Connections Networking Events  Farnham Business Connections is inviting local businesses to come along to their April lunch networking event to Meet the Experts. This unique event offers the opportunity for you to fire a question or two at business experts and receive free advice and information.
More Kids Easter Activities…
Kids Spring Craft Workshop  Decorate a flower pot at Farnham Library- suitable for children aged 4 and upwards. 
Need A Laugh?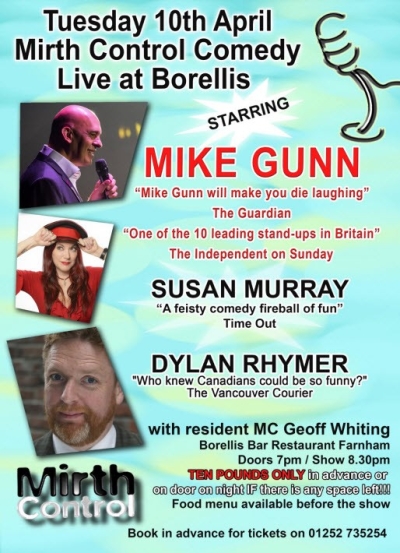 For further details about all these events and to find things to do in and around Farnham, please visit our Events page HERE  
If you'd like to maximise the audience for your events add them FREE to thebestof Farnham website HERE – and we'll promote them to thousands of local people.  
To keep up to date with everything that's happening locally, great offers and trusted local businesses register for email updates HERE.