Your guide to things to do in Farnham – 15th March to 28th March
Here's what going on in and around Farnham over the next couple of weeks, there really is something for everyone.
Friday 15 march
Live Big Band Music and 3 Course Menu Just £27.95 at Bears  Enjoy live music from 'Frank Sinatra and Friends' and a delicious menu for one set price.
Saturday 16 March
Saturday Roast Lunch in Hale  All over 60's living on their own are welcome to join Farnham ASSIST for a roast lunch.
Sunday 17 March
Car Boot Sale at Country Market Bordon  Find out more about local regular car boot sales at Country Market
Monday 18 March
Sunflower Cafe Dementia Support Group  Regular Monday meeting for people living with dementia and their carers.
Knit 'n' Natter  Do you enjoy knitting and good company? Join Farnham Assist, bring your own knitting or knit for a local charity.
Tuesday 19 March
Phyllis Tuckwell Open House  Every Tuesday Phyllis Tuckwell open their doors for Open House afternoons, so that you can find out more about the care and support they offer.
Wednesday 20 March
Cafe Culture Farnham  Aged 50+? Make new friends in your local area over a cuppa at the friendly Plough pub.
Heartstart Free Life Saving Courses In Farnham  Do you know what to do in an emergency? FREE life saving courses in Farnham.
Thursday 21 March
The Plough Drink and Draw  A relaxed doodling session with drinks discounts at The Plough.
Friday 22 March
Nicky Louise live at Yiayias  Enjoy a wide range of live music from show tunes to pop classics with Yiayias at The Fox.
Off The Record Live at The Plough  Another great weekend of live music at one of Farnham's favourite music venues.
Saturday 23 March
The Micky Kemp Band  Rock n Roll live at The Plough
Farnham Health and Wellbeing Day  A range of displays, stands, demonstrations, talks and activities will be available at this event from many local Farnham organisations.

Sunday 24 March
Farmers Market  Fresh local, seasonal produce and products. Talk to the stallholders before you buy.
Music in the Vineyard  Fantastic free event with live music from Matt Lloyd Mostyn.
Monday 25 March
Farnham Speakers Club  Become a better speaker and improve your self-confidence.
Tuesday 26 March
Mirth Control Comedy Live at Borellis  Enjoy an evening of comedy in Farnham with headline acts and ticket price still only £10!!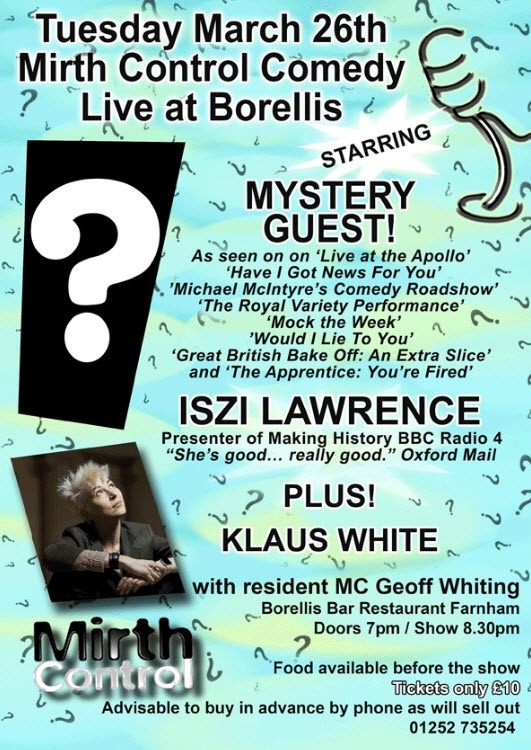 Wednesday 27 March
One to One Computer Tuition  Are you an older person needing help understanding you IPad, laptop or computer?
Jazz At The Ivy Room: Trombone for Two!  An all-star trombone special with two of Britain's greatest trombone players.
Thursday 28 March
OPA! Greek Night at Yiayias  Plate Smashing, Belly Dancer and Live Traditional 'Bousouki' Music from Mixalis Theodosiou.
Coming Soon…
Mother's Day at Yiayias  In true Cypriot style, bring all the family together to enjoy home-cooked food at Yiayias at The Fox this Mother's Day.
For further details about all these events and to find things to do in and around Farnham, please visit our Events page HERE  
If you'd like to maximise the audience for your events add them FREE to thebestof Farnham website HERE – and we'll promote them to thousands of local people.  
To keep up to date with everything that's happening locally, great offers and trusted local businesses register for email updates HERE.