Your guide to things to do in Farnham – 15th February to 28th February
Here's what going on in and around Farnham over the next couple of weeks, there really is something for everyone.
Friday 15 February
Eat At Joe's playing live at The Plough  Cover band playing rock, soul and blues from the 60's till the now.
We're Going on a Bear Hunt - A Walking Trail  A Karma Kidz Yoga free family walking trail through Farnham Town Centre, spot the bears to win prizes for World Book Day! Running from Friday 15th February until Monday 4th March.
Saturday 16 February
Saturday Roast Lunch in Hale  All over 60's living on their own are welcome to join Farnham ASSIST for a roast lunch.
Sunday17 February
Chawton House Snowdrop Sunday  Visit the Chawton House gardens to enjoy the snowdrops whilst they are in season!
Sunday Soul Lounge  An afternoon of soul and jazz at The Plough, Farnham.
Monday 18 February
Farnham Xplorer Explore the park, find the markers, complete the challenge and have fun with the family.
Knit 'n' Natter  Do you enjoy knitting and good company? Join Farnham Assist, bring your own knitting or knit for a local charity.
Tuesday 19 February
Half-term craft event - making spring wreaths  Children aged 3 years and upwards are invited to create a wreath to celebrate spring using colourful flowers, animals and insects!
Chatterbooks Children's Reading Group  Readers aged 8 to 11 years are invited to join Farnham Library's new Chatterbooks group.
Wednesday 20 February
Holiday Drop-in days at the Museum of Farnham  Half term craft sessions involving knights and princesses on Wednesday and Thursday.
Heartstart Free Life Saving Courses In Farnham  Do you know what to do in an emergency? FREE life saving courses in Farnham.
Thursday 21 February
Thebestof Farnham networking and award presentations  Local businesses are invited to celebrate the Business of the Year Awards, organised by thebestof, to celebrate independent companies who make a difference to our community.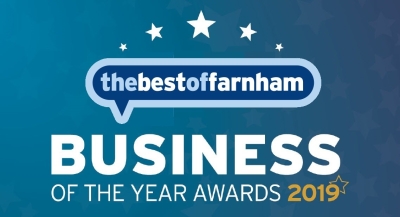 Friday 22 February
Unravel....a festival of knitting 2019  Three day knitting and crochet event, includes a marketplace, talks, workshops and more...
Inside Track Live at The Plough  This Blues, Soul and Rock band will be performing 60's, 70's, 80's and 90's classics.
Saturday 23 February
Introduction to 4 Shaft Table Loom 2 day workshop  For those who want to try weaving on a table loom for the first time or just want to get to know the basics of weaving on one, this weekend course is for you.
Adelaide Road live at The Plough  This contemporary covers band will be playing everything from the Foo Fighters to Amy Winehouse.
Sunday 24 February
Music in the Vineyard  Enjoy live swing music and delicious homemade treats from the charity tea stand, hosted by Garner's Goes Bananas. There will also be a raffle in aid of the Mayor's charity. Free event.
Farmers Market  Fresh local, seasonal produce and products. Talk to the stallholders before you buy.
Wedding Fair at Frensham Heights  Around 30 local wedding suppliers in one stunning wedding venue!
Monday 25 February
Farnham Speakers Club  Become a better speaker and improve your self-confidence.
Tuesday 26 February
Joe Bor: The Story of Walter and Herbert  A funny and touching evening of comedy about friendship through adversity at Farnham Maltings.
Wednesday 27 February
Jazz at the Ivy Room  An evening with vocalist Sara Dowling with saxophonist Vasilis Xenopoulos join the Sandra Lambert Trio.
Thursday 28 February
Quiz at The Plough  The Plough Pub Quiz – Cash Prize for winners!
For further details about all these events and to find things to do in and around Farnham, please visit our Events page HERE  
If you'd like to maximise the audience for your events add them FREE to thebestof Farnham website HERE – and we'll promote them to thousands of local people.  
To keep up to date with everything that's happening locally, great offers and trusted local businesses register for email updates HERE.