Racing car driver Bobby Thompson drives Rio and Hall & Woodhouse Charity Partners up a gear
3rd May 2018
... Comments
---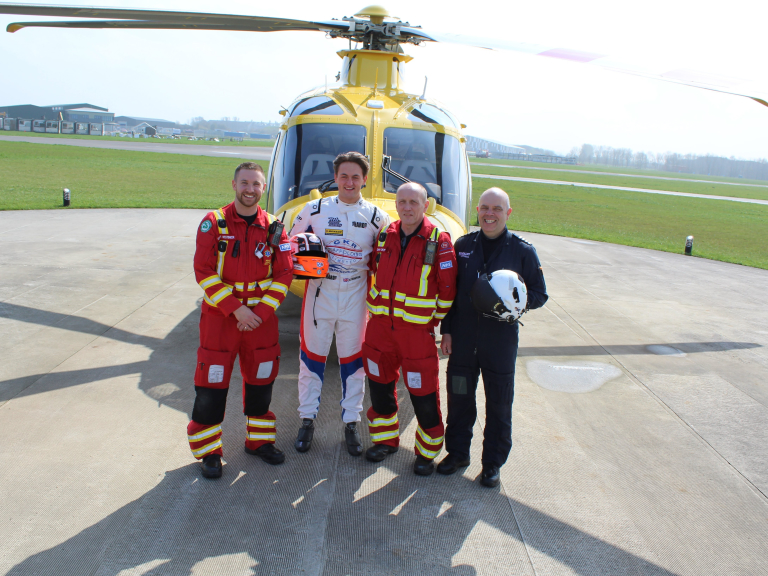 Rio sponsored British Touring Car Championship driver Bobby Thompson will be supporting eight air ambulance charities during the 2018 racing season including Devon Air Ambulance. The popular Essex based 21-year-old already boasts a six-year racing career that has seen rapid progress, especially since joining Team Hard in the VW Cup in 2015 and then going on to win the VW Cup Series in 2017.
Earlier this year, Rio Soft Drink became an official racing sponsor for Bobby Thompson and Rio's brand owners, Hall & Woodhouse agreed a two-year charity partnership with the eight local air ambulance charities who include;Devon Air Ambulance, Dorset and Somerset Air Ambulance, Great Western Air Ambulance Charity, Hampshire and IOW Air Ambulance, Kent Surrey Sussex Air Ambulance, London's Air Ambulance, Thames Valley Air Ambulance and Wiltshire Air Ambulance.
With the new season now underway, Bobby and Rio are keen to build on the relationship between all parties and intend to use every opportunity to promote the work of the eight air ambulance charities, whilst helping to raise funds for their life-saving services. 
Prior to the start of the racing season, Bobby visited both London's Air Ambulance and Dorset and Somerset Air Ambulance where he spent time with the crew and learnt more about their life-saving work.
"I'm really proud to be able to support the Air Ambulance charities in these eight regions" said Bobby. "They provide an incredible service to the public but also in the world of motor sport when they're needed at the circuit and when on occasion, the inevitable serious incident happens. I'm really looking forward to the year ahead working with the team, helping raise awareness for the charities and helping to raise funds through the Hall and Woodhouse & Rio Soft Drink partnership."
Lucinda Gray, sixth-generation of the Woodhouse family and Hall & Woodhouse Charity Champion, commented; "Supporting worthy causes is an important part of our culture at Hall & Woodhouse.  These local air ambulance charities cover the counties where our managed houses are located and each of them work tirelessly to care for critically ill or injured patients within our community. We are extremely proud to be working with Bobby to support the work of these fantastic charities."