How To Clean an Oven With Baking Soda & Vinegar
19th March 2017
Author: Izabela Z
Comments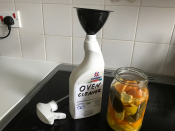 When it comes to cleaning your oven perhaps you are worried about the harsh cleaners available? We at Clean Corner wanted to share a simple formula to help you get the job of cleaning your oven done!
What you need
2 oranges, 2 lemons, a few leafs of mint (optional), white vinegar and baking soda. You will also need a spray bottle.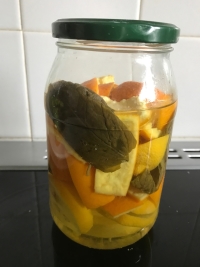 What to do
Peel an oranges and lemons.

In a mason jar combine orange peel, lemon peel, and distilled vinegar. You can also add mint to remove the vinegar smell.

Let the ingredients infuse in the mason jar for 5 days. Then using a funnel pour the liquid into a spray bottle.

When you are ready to clean your oven apply baking soda to the spots in your oven you wish to clean.

Spray on baking soda. It should start to fizz or bubble. Wait 30 minutes before wiping down your oven with a wet sponge. It's that easy!!
(see the before and after in the image gallery)
You don't have to worry about any toxic fumes or harsh chemical smells.
Let us know how it works out for you or call for professional cleaning service - Clean Corner 01323 453235
We will do the hardest job for you!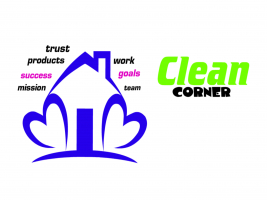 Clean Corner
Why not check out this Commercial Cleaners business in Eastbourne. Clean Corner is a 'thebestof' business member.