EASTBOURNE YOUTH RADIO 2019 **CALL FOR SPONSORS**
14th July 2019
... Comments
---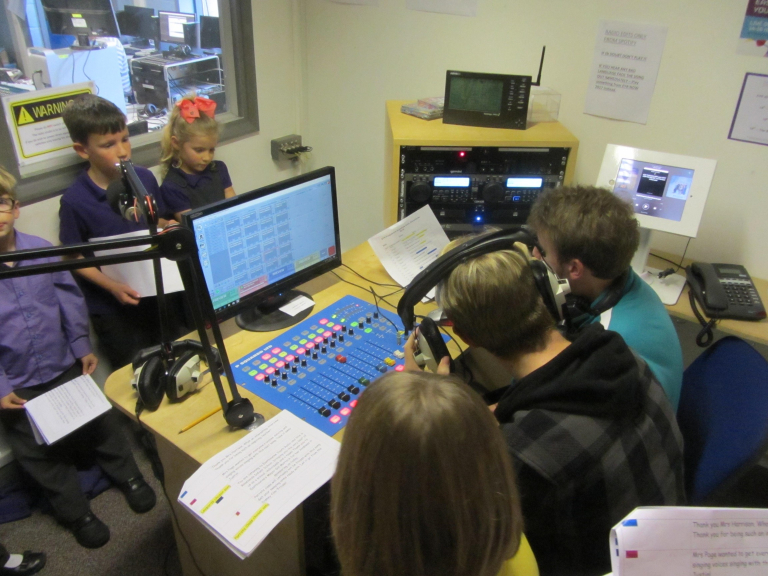 Eastbourne Youth Radio broadcast for over 50 hours on 87.7FM from studios at East Sussex College last November.  Almost 2000 young people aged 5-19 from 18 schools and colleges took part together with representatives from business and the local community. EYR was registered as part of Global Entrepreneurship Week, Parliament Week and helped to promote "Choose Respect" as part of Anti-Bullying Week. 
"I liked writing the script in my group, making decisions about what to include and how to perform it. I was bit nervous on the day but it was fun"(primary student)
"A unique broadcast experience made by young people giving them a voice and a platform for their talents" (college lecturer)
"Being involved as a presenter on EYR was an exciting and educational experience, and I feel so lucky to have had the opportunity. Everyone at the studio made us feel really welcome and relaxed. I would definitely do it again, and recommend others take the opportunity if they are offered it" (secondary student)
"This was an invaluable experience, which had so many benefits. The children learnt how to research and write scripts, as well as present them to a live audience. It was fantastic seeing the children light up with enthusiasm as they began their live broadcasts in the recording studio" (primary teacher)
"It was a great experience that revealed the work and immediacy of a live broadcast – I'd love to do it again" (college media student)
"Another year another excellent EYR experience. The students all had a great time and really want to do it again. Not only a great experience for the students but a fantastic opportunity to share the work we do with the wider community" (secondary teacher)
The EYR website www.eyr.org.uk received many visits – you can listen again too.  Significant media coverage was received for the Eastbourne area and the participants including links with BBC South East, More Radio Eastbourne, Eastbourne Voice, Heart FM and Eastbourne Herald.
2019 Planning
EYR will broadcast again between 13th & 15th November 2019.  Programmes will contain a mix of live performance work, interviews and music.  Special features will include, 'Answer Back', 'Meet the Media' and our hospitality event.  We will be promoting Anti-Bullying Week and related issues around mental health and emotional wellbeing. We are currently seeking the lead programme partner for 2019 who will receive additional profile in the lead up and during EYR.
About Sponsorship
Funding for EYR will come from Eastbourne EBP, East Sussex College, the participating schools/colleges and your kind sponsorship.
  
The broadcast schedule provides various sponsorship opportunities with rates starting from just £175.00.  All sponsors will receive a generous package of benefits: on-air promotion, inclusion on website and in press releases, an interview on-air, an acknowledgement in the programme booklet distributed to schools and an invitation to the hospitality event on 14th November. 
We are sure that you will consider this opportunity to be great value for your organisation as well as helping to support young people and community work across the area.
Please email tim@sorenlearningsolutions.co.uk or call 07890 388624 for further information.