What is Renting in Chichester Right Now?
18th March 2016
... Comments
---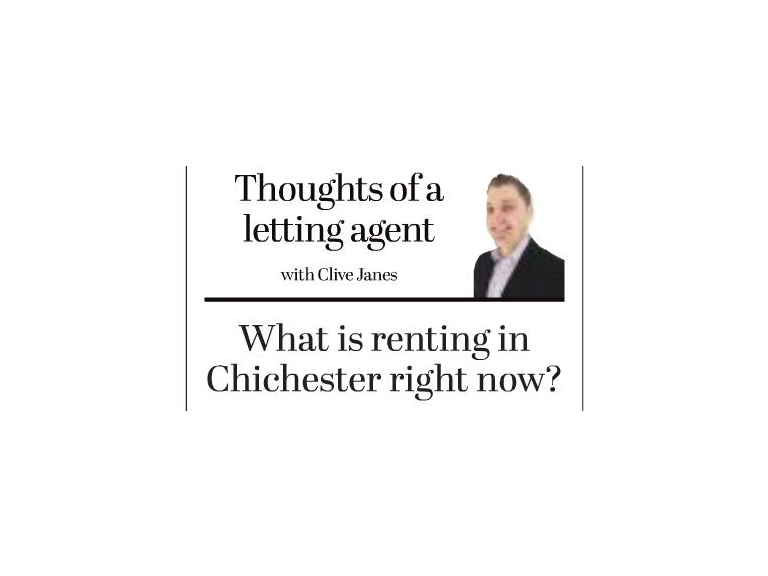 Knowing how rentable a property will be is half the battle when deciding what (or not) to buy for your next property investment.
 
Bearing this in mind, I was called by a couple from Lavant who were interested in investing in Chichester. Their concern was, as more and more people seemingly turn to buy to let, how easy would it be to find tenants?
 
Tenant demand is currently strong and everything will rent at the right price, but I did some research for them and wanted to share with you what I found out.
 
A good guide to judging the rentability of local property is to compare the number of properties available for rent against the number that have actually been 'let agreed'.
 
When I carried out this comparison last week, there were just 189 properties on the market for rent in the whole of Chichester. Of those 189 properties, 96 were still available whilst 93 of them had found tenants who were looking forward to moving into their new home. That means 49% of the recently available property in Chichester on the rental market has been tenanted (compared to 39% of the 233 properties in Bognor Regis and 33% of the 33 homes in Midhurst & Petworth).
 
However, delving deeper showed that in Chichester, 41% of detached houses on the market had a tenant lined up compared to a whopping 56% of semi-detached houses. Terraced houses were bang on the average, with 21 of the 43 on the market (49%) having secured tenants. Flats, however, have dropped slightly behind the lower-end houses, with 47% being 'let agreed'.
 
This data shows that, overall, houses are proving slightly easier to let than flats, indicating that they are more popular with tenants. From my experience, tenants often stay longer in houses than they do in flats, being more satisfied with a traditional layout and a private garden.

The data shows that houses of all sizes are currently in strong demand, with 52% of three bed houses and 54% of four bed houses being 'let agreed'. Two bed houses are in incredibly short supply (there are just 10 still available in the whole of Chichester), as 58% of the total supply have already been snapped up by tenants.
 
One thing of particular significance to those worried whether the rental market might become saturated, leading to a drop in rents or increased void periods, is that the number of properties available to rent in Chichester has actually decreased in the past year (there were 106 rental properties to choose from 12 months ago, compared to those 96 today).
 
I am always happy to give advice to any existing or prospective landlords in Chichester on what to buy for investment. I love having this level of information at my fingertips, which enables me to give the very best advice to my clients.