It's Getting Quicker to Sell Property in Chichester
4th March 2016
... Comments
---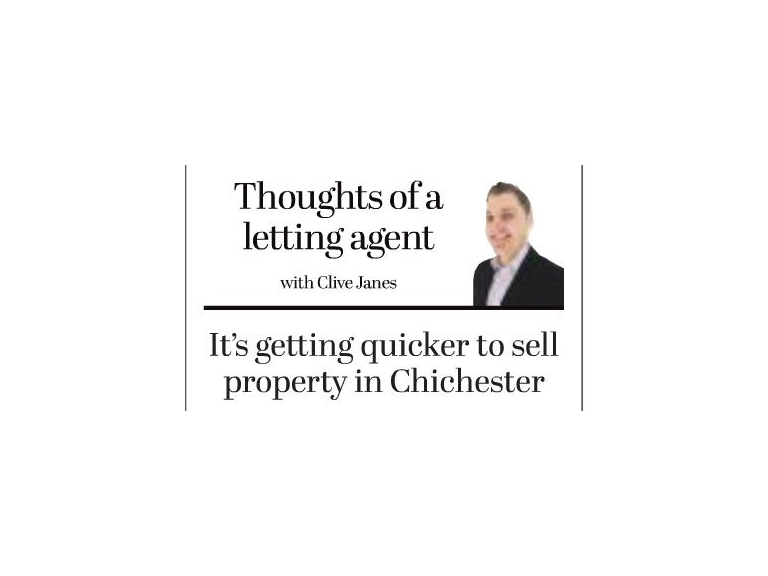 I was chatting to a landlord who feels the time is right to buy another buy-to-let before the 1st April deadline that will see stamp duty rise for landlords. The problem he is having is that property in Chichester seems to be selling so quickly!
Not only this, but properties are selling for more than they were just a few months ago. Meanwhile the average rent in Chichester has remained flat over the past year, meaning there's a decrease in rental yields for those buying now.
 
In the past year the time it has taken to sell a property in Chichester has dropped 15%. Whereas a year ago it would take 140 days from first marketing your property to it being sold and removed from the market, it now takes just 119 days.
 
With the time it takes to undertake the legal process of buying not getting any quicker, I would therefore conclude that this decrease (a significant 21 days) is all in the time it is taking to find a buyer.
 
Such strong demand is why you are seeing more estate agents use open days to conduct block viewings, thus minimising the length of time it takes to get interested parties through the door. It is also using 'social proof' to extract offers from keen buyers, physically seeing the strong demand for themselves and therefore wanting to get in quick before it sells.
 
This has been particularly true for properties that at first appear to be 'cheap'. A recent doer-upper priced at £250,000 quickly proceeded to sealed bids some 10% above this guide price.
 
Currently it is the semi-detached houses that are selling quickest in Chichester, taking an average of 84 days, compared to detached houses (110 days), flats (123 days) and terraced houses (137 days).
 
In regards to number of bedrooms, it seems three is the magic number, as three bedroom homes are proving the quickest to sell (taking an average of 95 days). It seems bigger isn't better in this regard as four bed houses are taking the longest time to sell (an average of 143 days).
 
Information like this is not only interesting but can be useful when thinking longer-term about what property you might wish to invest in. In this case, three bedroom semi-detached houses are theoretically the quickest to sell in Chichester.
 
Houses in general are selling quicker than flats even though the supply of flats to the market is lower than a year ago. This data also illustrates that people are still wanting to buy more spacious houses, rather than small apartments.
If you would like to discuss the local housing market, are thinking of buying a rental property or already have one you would like let or managed, please get in touch.
Clive Janes
CRJ Lettings
01243 624 599