Are Yields Really Just 3.2% in Chichester?
19th February 2016
... Comments
---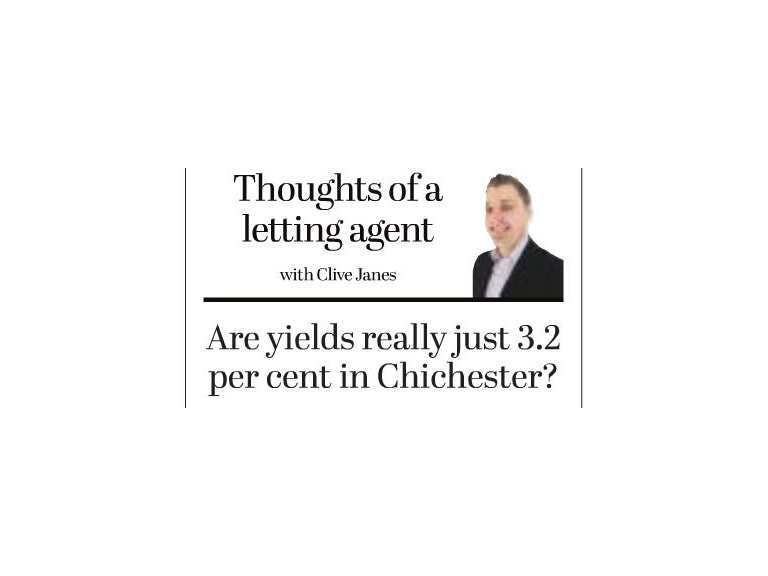 I met with a landlord this week who has properties in both Chichester and Bognor Regis. We were comparing the rents he achieves against the properties current values when he said it seems property in Bognor Regis provides a better return than in Chichester.
On the face of it, he's right. The average property in Chichester is worth £390,411 compared to an average rent in the city of £1,048pcm. Buying and letting out the 'average' property at these prices would give a lowly 3.2% yield.
 
When you compare that to Bognor Regis' average 4.1% rental yield (based on an average value of £274,643 and average rent of £942pcm) it would seem clear as to where the best place to invest is.
 
This ignores two very important issues though. 'Average' isn't necessarily reflective of what a landlord will purchase as a buy-to-let. Most often a landlord will buy a two or three bedroom house or a two bed flat; all of which can be bought for less than the 'average' property.
 
Put it this way, whilst the 'average' property for sale in Chichester has 2.7 bedrooms, the 'average' rental property has a more moderate 2.5 bedrooms.
 
When you focus on Chichester's two bedroom flats (available for an average of £259,613 and renting for an average of £951pcm), the yield jumps to a more respectable, if unspectacular, 4.4%.
 
My five most recent 'buy-to-let deals of the week' offered yields of between 4.7% and 6.3%.
 
The headline averages also ignores the fact that capital growth is often the component of property investment that provides the greatest return over the long term. Many also prefer to invest in property for capital growth rather than immediate rental returns for tax purposes.
 
This is where Chichester really out-trumps Bognor Regis; posting a 6.1% gain in the past year, compared to Bognor Regis' 5.6% increase. Longer-term, this is compounded further as data shows prices have risen 34.4% in Chichester over the past ten years, compared to 'just' 25.7% in Bognor Regis.
 
For those looking to take on more risk (and workload) there are also two fundamental ways to increase your rental yield. The first is to reduce your initial spend e.g. transform a run-down property or buy 'below market value'. The second is to increase the rent you receive e.g. rent to students or create a HMO (House of Multiple Occupation).
 
If you are considering investing in property and would like a free consultation as to what particular strategy and location would suit you best, please get in touch.