Welcome to the world premiere of Lisa Klevemark Waits for the Green Man
Lisa Klevemark makes her Brighton Fringe debut with this eponymous show which is a little bit too close to home to be labelled character comedy.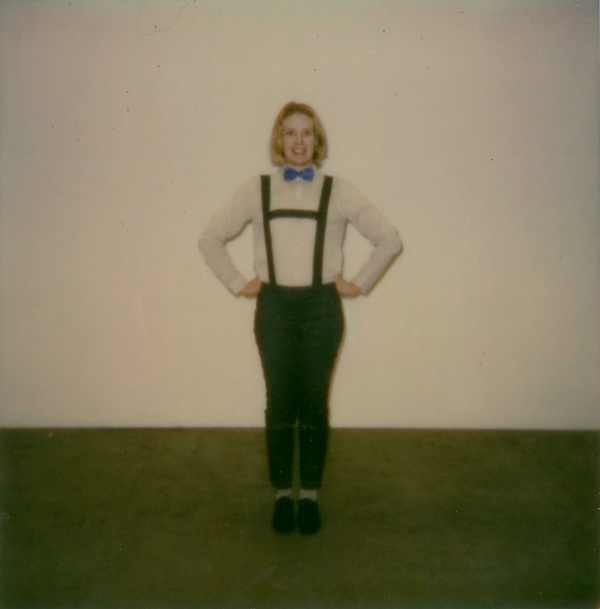 Dressed in a costume influenced by a 1957 photo of her dad, Lisa performs the most boring comedy show possible.
With all the pizzazz of a Swedish ombudsman, she provides the audience with unbiased information about state-funded porn, the importance of high-vis, and a history lesson about the man she blames for her own boring, sensible, frugal character – Martin Luther.
'A penny saved is of more value than a penny paid out.'
Martin Luther

Lisa is originally from Sweden, but has lived in the UK for many years. After realising that she was better suited for comedy than drama, she trained at renowned French clown school Ecole Philippe Gaulier in 2015 – 2017. There, she was promptly told that when she tries to be funny, she looks like a "f*****g boring protestant," so she tried to be more like her feisty Italian and Spanish classmates, which made it worse. When she eventually gave up and was herself on stage, people started laughing.
'Klevemark keeps the energy high… using mad improv skills.'
The Wee Review about Lemons, Lisa's 2018 solo show
After taking her first solo show, Lemons, to Edinburgh in 2018, Lisa is now expanding her horizons, visiting both Brighton and Prague, and (if all goes to plan, returning to) Edinburgh.

This time, she is going all out Swedish, all out protestant, and all out boring, though deep down, she would still like to smash a couple of plates, do a seductive dance, and rebel against the tyranny of the green man.
Dates: 17th – 19th of May
Time: 3.15 p.m. (ends at 4.00 p.m.)
Location: The Warren, The Bunker
---
Issued for and on behalf of Lisa Klevemark