Local author, Renee Tyack, was still living in London when her book "They Called her Cassandra" was first published in 2008. Ronald Harwood, the Oscar winning screen and playwrite wrote in the foreword:
"This is Renée's beautifully written account of her parents and their triumph in rebuilding their lives which had been shattered by the Nazis.  Because her memories are so personal and peppered with extraordinary details, this is not just another tale of refugees and the Holocaust.  It is a portrait of two remarkable human beings whose strength and values of decency, tolerance and kindness were unshaken by the terrible events that threatened to obliterate them, as it did so many others.  This book is a monument to goodness."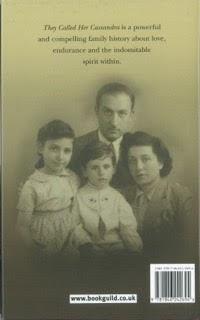 She moved to West Hove in 2015 (in her words, "best move ever!"), and the book has been re-published as a paperback and Ebook.  It is a memoir of Renee's family's life in Leipzig, East Germany, in the late 1930's and the last minute dramatic escape in August 1939.
It is mainly the story of her mother Ruth, the "Cassandra" of the title, and her father Fred.
Renee's mother, who with her courage and persistence, saved our lives; her father, the last surviving surgeon in the Leipzig Jewish hospital, saving bogus patients' lives, putting them in plaster or hiding others in the hospital cellar while under house arrest and in spite of the ever present Gestapo.
"I don't believe in miracles but there were so many along our journey to survive that sometimes I do wonder…"
There are many stories about those terrible times.  They must be kept alive, especially now with the rise of the far right in Europe and elsewhere, "Lest we forget." 
Renee has given readings of her book to many groups, schools and libraries, including two very successful ones at the Hove 50+ Club.
Renee would be delighted to visit any group who would be interested to hear more and share  experiences.
---
Issued for and on behalf of Renee Tyack
Main Image: Renee Tyack