Seedy Sunday Brighton 2017
7th January 2016
... Comments
---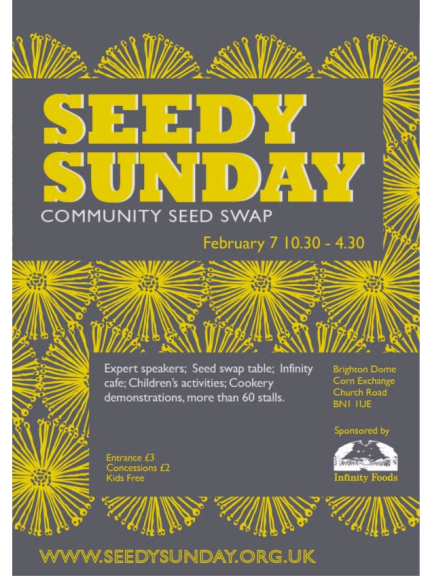 UK's largest community seed swap
Seedy Sunday, the UK's largest and longest-established community seed swap event, is returning to Brighton at BHASVIC, Dyke Road on Sunday 5th February 2017.
The event will feature:
- Expert speakers
- A seed swap table
- Many stalls
- Children's activities
- Infinity
Café
---
Our annual event is centred around the Seed Swap table, where gardeners can swap seeds they saved in 2016 for seeds to grow in 2017. Visitors without seeds to swap can make a donation of 50p per packet.  At last year's event over 10,000 packets of seeds, from rare vegetables to popular flowers, crossed the table. Experienced local growers are on hand to give advice on the practicalities of seed saving and growing from seed.
The event also features 60 stalls from community groups; seed, food and gardening related businesses and charities; children's activities; cookery demonstrations, and our Sponsors' Brighton's Infinity Cafe.
In 2014 Seedy Sunday was placed under threat by EU legislation that could have made amateur seed saving and swapping illegal. While the legislation was rejected 2015 it is expected that similar regulations will be re-introduced within in near future. Seedy Sunday continues to campaign and educate the public on this issue.
Victoria Benson, Chair of Seedy Sunday
"
Seedy Sunday has blazed the trail for UK seed swaps over the past 15 years it is the must go to event for seed swappers from all parts of the country.  It exudes innovation, creativity and common sense. In this time of climate change we need to preserve the diversity of uncontaminated plants for future food security. Seedy Sunday builds solidarity among all of us who respect our collective rights to save, sow and swap seeds grown in our gardens and allotments. Don't miss it if you want a garden or allotment full of unusual and delectable produce this summer – see you there"!
Seedy Sunday takes place on Sunday 5th February 2017 at

Brighton, Hove and Sussex Sixth Form College, 

205 Dyke Road

 in Hove. The event runs 10.30-4.30 and entry is £3, £2 for concessions or free for children under 16.
---