Places to hear live music in Brighton and Hove
Where are the best places in Brighton for gigs? Brighton's live music venues include pubs, restaurants, concert halls, outdoors and even on the seafront to name a few. Here is an overview of some great venues that offer live music.
---
Bohemia
This swanky bar in the Lanes doesn't just offer some of the most ostentatious cockails in town, on Thursday evenings they have a free weekly event where guests can enjoy locally sourced, smooth live music by candle light with table service. It is a scene reminiscent of the old school jazz clubs.
Address: 54-55 Meeting House Lane, Brighton, BN1 1HB
Website: http://www.bohemiabrighton.co.uk
---
Brighton Centre
The biggest pop stars of the past and contemporary popular musical acts are live on stage at the Brighton Centre.  As some of these are very famous artists, get in there quick when it comes to booking tickets.
Address: Kings Road, Brighton, BN1 2GR
Website: http://brightoncentre.co.uk
---
Brighton Dome
Time to get classy at this multi-arts venue with over 600 events spanning music, theatre, dance, comedy, literature, spoken word, visual arts, film, digital and more.  Listen to the Brighton Philharmonic Orchestra play Bach or experience tribal music from around the world.  The Dome has it all.
Address: Church Street, Brighton , BN1 1UE
Website:  https://brightondome.org/
---
Brighton Music Hall
We don't like to call things cheesy but...You can get your rocks off to the biggest hits across the years played by professional cover bands from around Brighton.
Address: 127 Kings Rd Arches,Brighton 
Website: https://www.brightonmusichall.co.uk/
---
British Airways i360
Start your Friday night on a high with live chilled jazz and soul music played 450ft above the city. Live @ the Sky Bar is available on the  5pm, 5.30pm, 6pm and 6.30pm flights for no extra charge. And the best news of all is that Resident Members can come along for half-price!
Address: King's Road, Brighton BN1 2LN 
Website:  http://britishairwaysi360.com/events/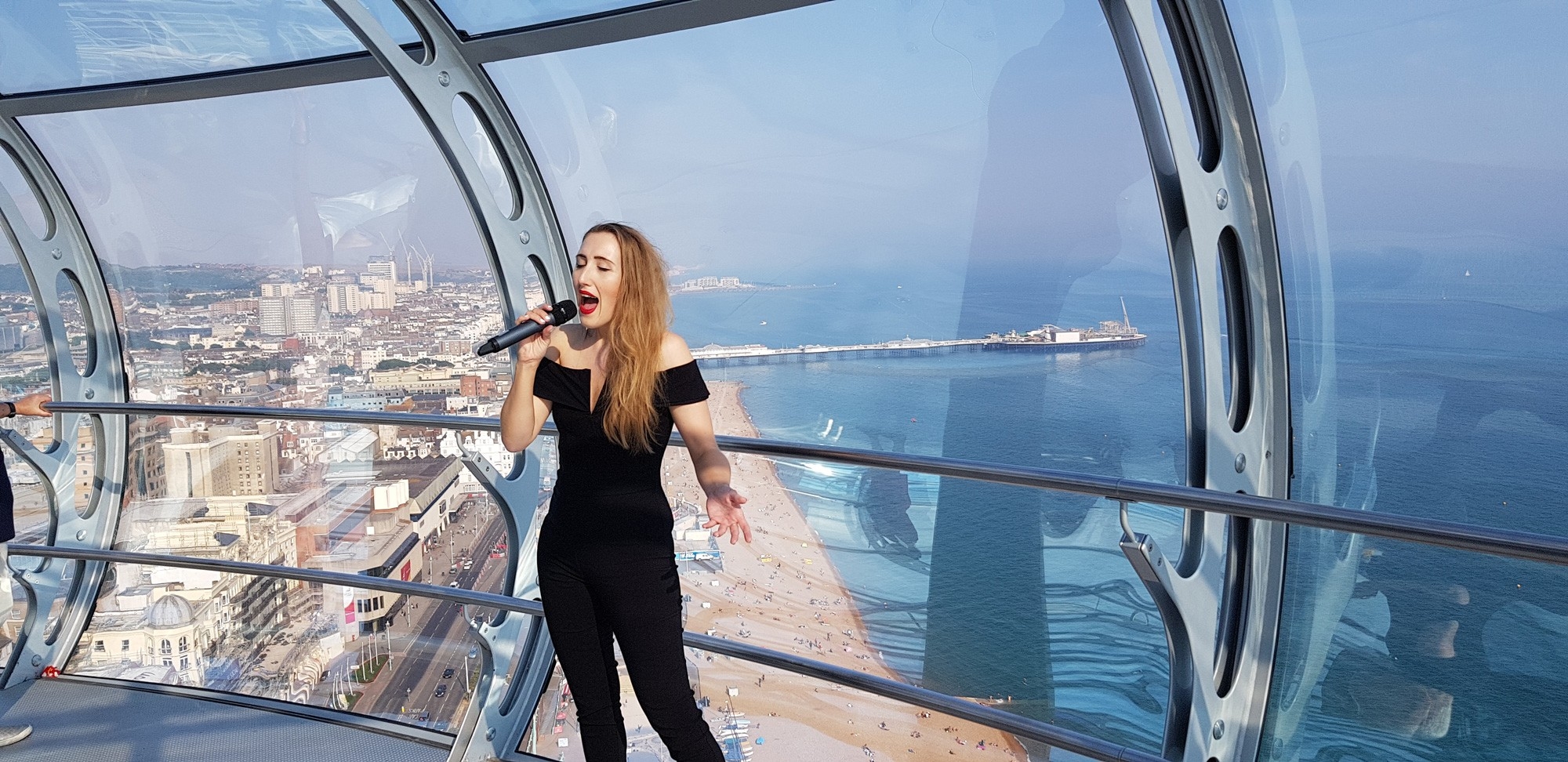 ---
Concorde 2
Brighton's premier live music venue with some of the coolest bands from around the world and legendary club nights. You can expect to hear anything including drum'n'bass, house, reggae, electo and big fat rock 'n' roll.
Address: Madeira Dr, Brighton, BN2 1EN
Website: https://www.concorde2.co.uk  
---
Fiddler's Elbow
The Fiddler's Elbow is an Irish pub just off the main drag of West Street up a little side street called Boyce's Street. There are DJs playing every Friday and Saturday night, quiz night every Tuesday plus live music 3 nights a week.  They even do the proper Irish thing on a Monday where they have live Irish music and a pint of Guiness for less than £3!! 
Address: 11 Boyce's Street, Brighton BN1 1AN
Website: http://www.fiddlerselbow.pub/
---
Hope & Ruin
The Hope & Ruin is a pub and live music venue with a wide range of  mostly local craft beers as well as wines and spirits. The live music venue upstairs is 150 capacity and has band playing mostly nights.
Address: 11-12 Queens Road, Brighton, BN1 3WA
Website: http://www.hope.pub/
---
Komedia
Best known for comedy, Komedia is actually  has one of the largest, most diverse arts and entertainment programmes in the UK with over 700 performances of comedy, music, cabaret and children's theatre.  It's got a pretty good cinema upstairs too.
Address: 44-47 Gardner Street, Brighton, BN1 1UN
Website: https://www.komedia.co.uk/brighton
---
Latest Musi

c Bar
A live music venue in Kemptown with a cabaret stage downstairs and a skylit restaurant/bar upstairs.
Address: 14 - 17 Manchester Street, Brighton, BN2 1TF
Website: https://latestmusicbar.co.uk/
---
Marlborough Pub and Theatre
One of Brighton's oldest and quirkiest public houses, the Marlborough is a real local gem. Full of characters thanks to the lovely theatre and music venue upstairs.

Address:
4 Princes Street, Brighton
Website: http://www.marlboroughtheatre.org.uk 
---
Sticky Mike's Frog Bar
The venue is home to a great selection of alternative club nights, run by some of Brighton's best promoters plus live bands both local and international most nights of the week.
Address: 9-12 Middle Street, Brighton
Website: http://www.stickymikesfrogbar.pub/
---
The Brunswick
The Hove pub looks like many others from the outside but it's got an awesome beer selection and an excellent little stage area where they host all kinds of music and events.
Address:  1-3 Holland Road, Hove, BN3 1JF
Website: http://www.thebrunswick.net
---
The Green Door Store
The Green Door Store is a live music venue and late night bar/nightclub located directly underneath Brighton Railway Station and  it has quickly become one of Brighton's most loved hubs for live DIY music.
Address: 3 Trafalgar Street, Brighton
Website: http://thegreendoorstore.co.uk
---
The Haunt
With a decent sized stage and very long bar, the Haunt hosts local and international acts of all different music types plus some very popular club nights, the most popular being their legendary 80s night on a Saturday.
Address: 10 Pool Valley Coach Station, Brighton
Website: https://www.thehauntbrighton.co.uk/
---
The Mesmerist 
The Mesmerist offers cocktails, food and all sorts.  It hosts a wide range of events including being home to the famous Swing Ninjas on a Wednesday night where you'll see people lindy hopping the night away.
Address
: 1-3 Prince Albert Street, Brighton
---
The Prince Albert
A vivid mural of the owner's favourite music heroes graces the side of this pub and the venue upstairs is LOUD but in a good way.
Address: 48 Trafalgar Street, Brighton
Website: https://www.facebook.com/ThePrinceAlbert/
---
Toy Museum Folk Club
The Toy Museum Folk Club is Brighton's newest traditional folk night, bringing the very best acts to the unique setting of Brighton Toy and Model Museum. Come and watch intimate acoustic sets from the finest folk talents, and explore the train sets, model planes and traditional children's toys on display in the museum.
Address: 52-55 Trafalgar Street, Brighton BN1 4EB
Website:  https://www.brightontoymuseum.co.uk
---
This selection is but a small sample of the live music on offer in Brighton. Share your favourites in the comments below. 
Check in with our events page regularly to see some of the best entertainment on offer.