How to prevent car windows from steaming up?
8th December 2013
Author: Ian Jowitt
Comments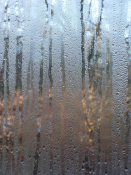 How to stop steamy windows in your car
It's annoying, it makes a mess of your lovely clean windows and it delays us in the morning when we need to get to work. But there is a way to deal with steamy windows and it's not what you'd think...
Do you suffer from steamy windows in your car? Isn't it annoying?
You push open your front door on a cold winter's morning, prise open the car door and prepare yourself for your journey. You switch the engine on and as it roars into life, your windows suddenly mist up. You need to get moving, but instead you're sat in the driver's seat like a lemon waiting patiently for the windows to clear.
And it happens when you're driving. Your windscreen mists up and the only way to deal with it is turning the heating up on full blower. It's so hot, you're forced to open your windows for some fresh air. Surely, it's not meant to be like this?
Well, we trawled the internet to see what we could come up with and here are some popular answers we found:
"Stop having sex in your car or smoking pot in there."
"Remove the windows, that will solve all the problems"
"wipe and polish the inside of windows with neat dish washing liquid,this also works with motor cycle helmet visors" (may be worth a try, someone also suggested diluted toothpaste!)
If none of these work for you, do not to fret - There is a really simple answer to steamy windows... it's air conditioning. 
That's right, air conditioning in your vehicle is the most effective way to get rid of steamy windows. 
Let's dispel a couple of myths.
Myth 1 "Air conditioning is only for when it's hot"
Not true. Air conditioning is to help circulation of air within the vehicle whether it is hot or cold. Better circulation is what helps prevent steamed up windows. Use it in winter and you'll see a huge improvement.
Myth 2 "Air conditioning uses up more of my petrol" 
This simply isn't true. It does use some fuel when it starts, but not as much as people think. What uses much more petrol is having your window open which causes significant drag.
Myth 3 "I have air conditioning but it's not good enough to de-mist my windows"
The mistake most people make is not having their air conditioning regularly serviced. It needs to be serviced at least every three years to remain fully effective. Air con can be incredibly effective if properly looked after (and can even remove the effects of hay fever in summer!).
---
They can perform an air conditiong service on any make of car and can offer a Free Quotation for your vehicle.
If you want to banish steamy windows in your car talk to them about their air conditioning service by calling 01273 796074. 
Thwaites MOT & Service Centre
Unit 1
William Street
Portslade
BN41 1PZ
T: 01273 796074
Thwaites MOT & Service Centre are a recommended business for car servicing in Brighton on thebestof Brighton and Hove.