Gilbert & George – Brighton Museum& Art Gallery until 2nd September
16th June 2018
... Comments
---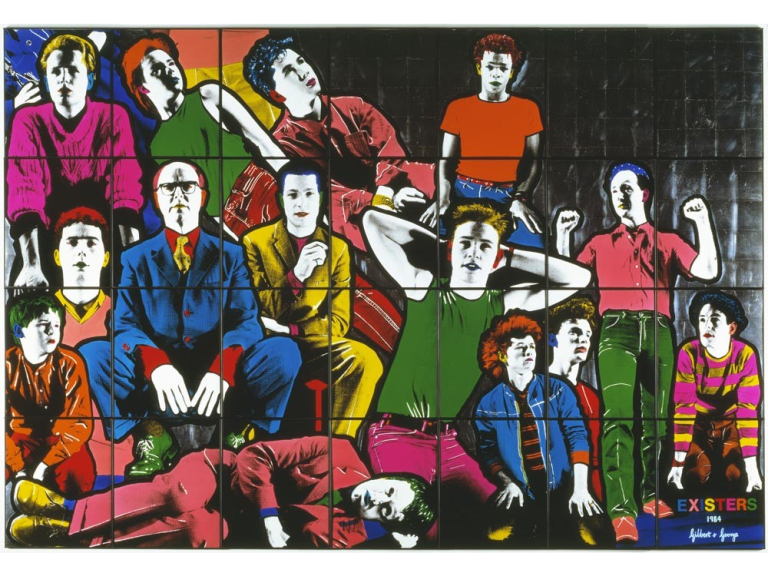 The Chinese proverb 'may you live in interesting times,' applies neatly to East London's answer to Andy Warhol. For the fact that this exhibition spans the years 1969 to 1981 gave these gay icons plenty to talk about – homelessness, hatred and AIDs are just a few of the topics brought to life through shocking colours, graphic imagery and videos. "Not somewhere to bring your mother!" was one of the comments left by a visitor.
There is some beauty among the visual chaos, though – especially in 'The Evening Before the Morning After' (1972) - a scattering of black and white, intimate photographs of the couple's favourite East London wine bar – right down to out-of-focus soda siphon heads and bar receipts. Interspersed, as were most of these works, with pictures of each other – you could see why another visitor had written: "They're narcissistic Tories, but I'm not sure I care," on the feedback wall.
Every picture is divided Warhol-like into sections – mostly 16, but sometimes more as in the case of the giant, beautiful 'Existers' (1984), in which poster-paint colours are added to a utopian vision of handsome young men clustered around a disinterested, besuited G&G. 'Fallen Leaves' (1980), meanwhile, is arresting for the pity it provokes, as a tortured, wounded homeless man's face peers out from a 'frame' of leaves.
The later works are more explicit, depicting among other things, the perverse attraction of human waste, as the artists dreamed up new ways of depicting their own decay and ageing.
While you're pretty unlikely to leave feeling that you must rush out and buy a G&G for your living-room wall, this thought-provoking show exerts a powerful pull, being, it has to be said, driven and fuelled by so much more than narcissism alone. For more info, visit brightonmuseums.org.uk
Mary Kalmus