While the Netherlands are obviously beyond compare when it comes to historic windmills, there are still over 30 specimens standing in Sussex today. Out of this number, a whole 7 are situated in and around Brighton and Hove.
Historically there are three main types of windmills, examples of each one can be found around the city. The oldest construction is the post mill, where the whole wooden body pivots on a centre column and can be rotated into the wind. A later solution was the smock mill with a fixed wooden tower, usually octagonal, and a rotating cap with sails (also called sweeps) attached to it. The latest improvement was the tower mill, in which the stationary body was round and built from stone or brick.
Waterhall Mill, or "Patcham Windmill", in Westdene. This tower mill was constructed in 1884-5 and was the last working windmill built in Sussex. Today she's part of a private house, but luckily the splendid views towards the South Downs, beautifully complemented by the windmill, are free for everyone to enjoy.
West Blatchington Windmill in Hove. An six-sided smock mill built around 1820, stands on a tall flint and brick tower on an island in the middle of Holmes Avenue. Today the windmill serves as a museum, open between May and September during public holidays, but groups are also shown around at other times by appointment.
---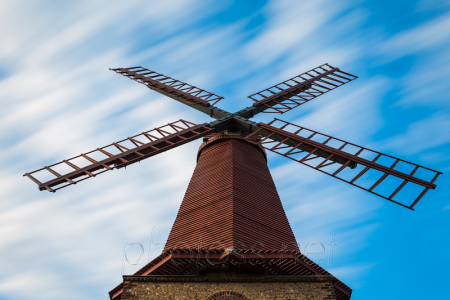 ---
Beacon Mill, or New Mill, on top of Beacon Hill in Rottingdean. A smock mill build in 1802, although an earlier windmill had existed on the site, probably a post mill. Open to the public on both days of National Mills Weekend, and on the third Sunday of each month from May to September.
Ashcombe Mill in Kingston near Lewes. This post windmill with six sweeps was built in 1818 and destroyed by a gale a century later. In 2007 Sussex Mills Group was granted permission to rebuild the windmill on the same site. The reconstruction has been recently finished.
---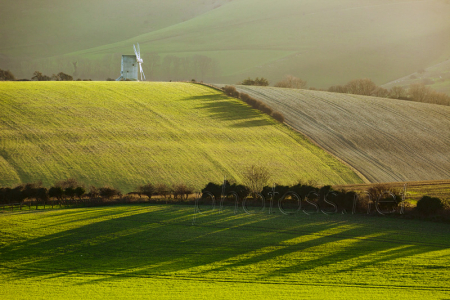 ---
Jack and Jill windmills in Clayton, West Sussex.
Jill is a post mill, originally built on Dyke Road in Brighton in 1821, but moved to Clayton in 1852. Destroyed in a storm at the beginning of 20th century, she was eventually restored in 1953 and brought back to working order by 1986. Jill is open to visitors on most Sundays between May and September.
Jack is a tower mill built in 1866 to replace an earlier demolished windmill. Curiously, Jack has a male name, while generally windmills are regarded as female. The windmill is privately owned and not open to the public.
Oldland Mill in Keymer, West Sussex. A post mill originally built around 1700 it was in use until early 20th century, then fell into disrepair. The most recent restoration was completed in 2010. Today the windmill is in the care of Oldland Mill Trust, a registered charity, and is the oldest working windmill in Sussex.
More information about historic mills in Sussex: www.sussexmillsgroup.org.uk/
Brighton prints: www.photoss.net