Best places for Graffiti Street Art in Brighton
In recent years Brighton & Hove has become the home of an exciting and ever-changing display of the finest graffiti in Britain, some of which rivals the remains of the Berlin Wall for sheer beauty and extraordinary creativity.
Our buildings are proud to sport some of the best graffiti art around, colourful and thrilling, a treat for the eye and food for the spirit. It's a wholly positive and still-growing trend and the work on display is simply breathtaking. So where can you find all this spray-painted wonderfulness?

Where to find the best Brighton street graffiti
Kemptown – look out for various painted buildings, including one featuring a huge crab
Have a look on the mural of the wall of The Prince Albert Pub, depicting a selection of famous faces from the music scene.
The city centre – head for Churchill Square, face the sea and look right to admire the colourful hot air balloons and pies! painted on the side of a shop on Western Road
How many graffiti decorated shops can you spot in the North Laine? Look up and there are plenty to admire…
Walk down the little alleyway between Gloucester Road and Trafalgar Street for an artistic treat. Or hit the bottom of Trafalgar Street to admire the amazing blue artwork on the side of The Hair Cutter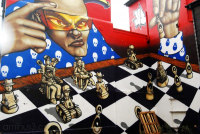 Kensington Street, in the North Laine, was once horribly tatty and grim. Now it's a visual feast of splendid graffiti artwork, popular with tourists as well as a real pleasure for locals. Worth mentioning are the dog mural 'For the Love of Dogs' by Sinna One and other artists for the Brighton Festival 2016 and a picture of a chess game by Odisey and Aroe
A reproduction of Banksy's famous Kissing Coppers is on the tourist trail too, on Trafalgar Street – the original sold to a New York gallery for a million quid… not bad for a clever bloke with a spray can!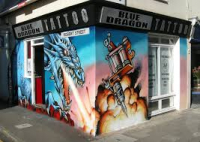 Find the junction of North Road and Robert Street and you'll discover a huge, blue fire-breathing dragon, created especially for the Blue Dragon Tattoo Shop by the well-known artist Odisy
Head north off the middle section of Trafalgar Street and there's a long hoarding enclosing wasteland behind the Lanchester House development, a continually-changing display mirroring the zeitgeist and representing current cultural trends
About the Cassette Lord
If you've noticed the city's boring green telecoms boxes, many of which used to be covered in ugly graffiti tags, being transformed into funky pieces of retro art, you'll be familiar with the work of our very own Martin Middleton, AKA Cassette Lord.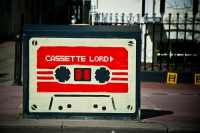 As well as decorating the boxes he's also into all sorts of urban artwork including sculpture. He describes his style as retro, referencing familiar objects and shapes people recognise from childhood and striking a powerful emotional chord. 
Cassette Lord's fab images appear all around the city, so keep your eyes peeled. You can also see them on the artist'  Facebook page.

About Sinna One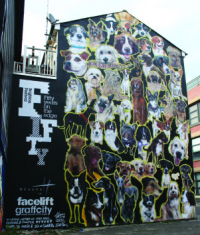 Sinna One is a Brighton based artist and muralist. His work focuses on cartoon characters and styles and is influenced heavily by music, comics, sci – fi and graffiti culture.
In the past few years his work has been seen on walls, in galleries, at festivals and in books.
Check out his  website 
What's your favourite piece of Brighton & Hove graffiti?  
We'd love to know which piece of Brighton graffiti art you love best. Feel free to leave a comment.
(Thanks to Simon Carey for the image [CC-BY-SA-2.0 (http://creativecommons.org/licenses/by-sa/2.0)], via Wikimedia Commons)