Are you Ready for the Heroes v Villains Run 2016?
13th April 2016
... Comments
---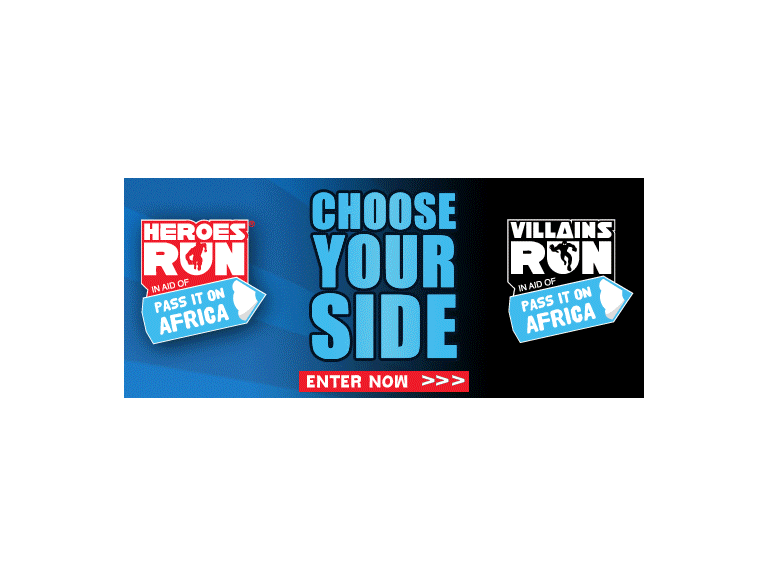 It's that time of year again, when Brightonians up and down the city dust of their Superhero or villain costumes and think about heading to the seafront for another epic battle between the good and evil!
It can only be Heroes v Villains Run, in aid of Pass It On Africa, and it will take place on Sunday 15 May 2016.
The concept is simple: On race day, the teams will line up against each other and go head to head in a straight race to the finish line. In both the 5km and the 10km race, the first team to reach 100 finishers will win the day.
You don't have to be an athlete to take part, so the event is a fantastic opportunity for all the family to get involved.
As well as the 5k and 10k distances for the grown up Wonder Women and Lex Luthers among you, there is also the ever-popular Kids 500m Dash plus a Youth Mile Race.
Every runner will receive a medal and there will be prizes for the best costumes in all categories. Outfits can be shop- bought or homemade, but it's best to think of the practicalities of running in it before getting too carried away with the design!

The teams are also going head to head in fund-raising for Pass It On Africa. Hero or Villain, one thing that everyone can agree on is the importance of their cause.

"In 2016 we aim to complete our 3 year development project at the Nyantonzi Primary School in Masindi, Uganda. The objective is to develop the school into a sustainable and well-performing institution where all the children, girls and boys alike, receive a quality education in a safe and secure environment. "

Matt Lambert - Pass It On Africa co-founder

"Last year's race raised £18,711 for Pass It On Africa, every penny of which went to the Nyantonzi School Project. The charity is run entirely voluntarily by a handful of friends, so the race entry fee covers the annual charity running costs plus the cost of the race itself. This is how 100% of fundraising can go straight to supporting education in Africa.

"Pass It On Africa aim to raise £20,000 at this years race. To achieve this they are asking each runner to try and raise £20 sponsorship. If this is achieved, you will not only enable over 800 young people to achieve a quality primary education but you will also help them help themselves out of poverty." 

So, whether you wish to save the day as a hero or ruin the day as a villain, sign up for a fun day out, and at the same time help put a smile on the face of a child in Africa.

Brighton Heroes Run Vs Villains Run, Sunday 15 May 2016,
www.heroesrun.org.uk 
Facebook: HEROE5RUN
Twitter: @heroesrun