What's On In Solihull 17th - 23rd March 2017
Your weekly guide to things to do in 

Solihull
This week there are a whole host of events for the family to enjoy, but be sure to book early to avoid disappointment.
So take a look at ALL of the events in the region 
new ones are being added all the time, so get planning!
Here is this weeks listings, just click on a link that takes your fancy to find out more....
Solihull, Coventry & Warwickshire Expo
Join us Friday 17th March for the Solihull, Coventry & Warwickshire Business & Trade Expo, set to be the biggest one yet.

Come and join Knowle Travel who will be hosting a Travel Show alongside many specialist Cruise and Tour Operators at Hogarths Hotel Sunday 19th March.

Dawns Jitterbug Comes to Solihull
Teaching East Coast Swing, Jitterbug, 40's Jive, Intermediates Charleston, Strolls & Triple Step classes are held every Tuesday at West Warwickshire Sports Club.
Held every two weeks at Solihull Lodge Community Room, Grafton Road, includes ballroom and sequence dance. 
Solihull Networking with Bestof Solihull & Solihull Chamber
Come & join us for an evenings networking at the Holiday Inn Birmingham Airport 22nd March between 5.30pm & 7.30pm. be sure to book your place.
Bestof Solihull Breakfast Networking
This regular network meeting is held every two weeks on a Thursday at Hillfield Farm. This week we have Peter Jones from Alert Media sharing his extensive knowledge & experience of the media & PR with a talk all about the virtues & merits of PR. 
Wedding Fayre and venue Open Day
If your looking to getting married come along on Thursday 23 March to The Crowne Plaza Solihull and see what they have to offer to make your day extra special. 
Looking further ahead....
This UPLIFTING EXERCISE Red Nose Day Dance & StrengthATHON is a Family Fundraiser raising money for Red Nose Day on Friday 24th March. 
The Worlds Number 1 Bruno Mars Tribute brings his Live show to Hogarths Hotel Solihull Friday 24th March 2017.
Tribute Night at West Warwickshire Sports Club
Carl Ryder is 'Soul Man' Friday 24 March 2017. Book your tickets for this fabulous show. Doors open at 7pm Price includes Food served at 8pm.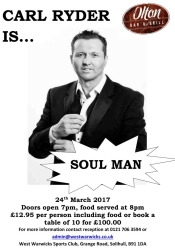 Sunday 26th March is Mothers Day, If you havn't booked yet here are afew suggestions, but remember booking is essential. Click on a link to find out more...
Mothers Day lunch or Afternoon Tea at Hogarths Hotel
Lunch at The Crowne Plaza Solihull
Lunch at West Warwickshire Sports Club
Take a look at my Blog on Mothers Day 2017 in Solihull  for more ideas.
Have a great week 
If you'd like to maximise the audience for your event you can add it free to thebestof Solihull  HERE and we'll also include it in our weekly what's on blog which reaches thousands of local people each week.