Shrewsbury company to celebrate Welsh links on St David's Day
A Shrewsbury-based leisure company will become Welsh for the day as staff join in the celebrations for St David's Day on Thursday, March 1.
Salop Leisure, whose Shrewsbury headquarters stand at the gateway to Wales, will be proudly flying the Welsh flag, some staff will be wearing traditional Welsh costumes and the company's Love Coffee restaurant will also be serving up a special menu with a flavour of Wales.
In addition, customers will be handed complimentary daffodils, the national flower of Wales, on their arrival. Love Coffee's treats will include Welsh cakes, bara brith and leek and potato soup.
Salop Leisure will be pulling out all the stops to promote the wonders of caravan, camping and touring holidays in Mid Wales as March 1 traditionally marks the start of the new caravanning season.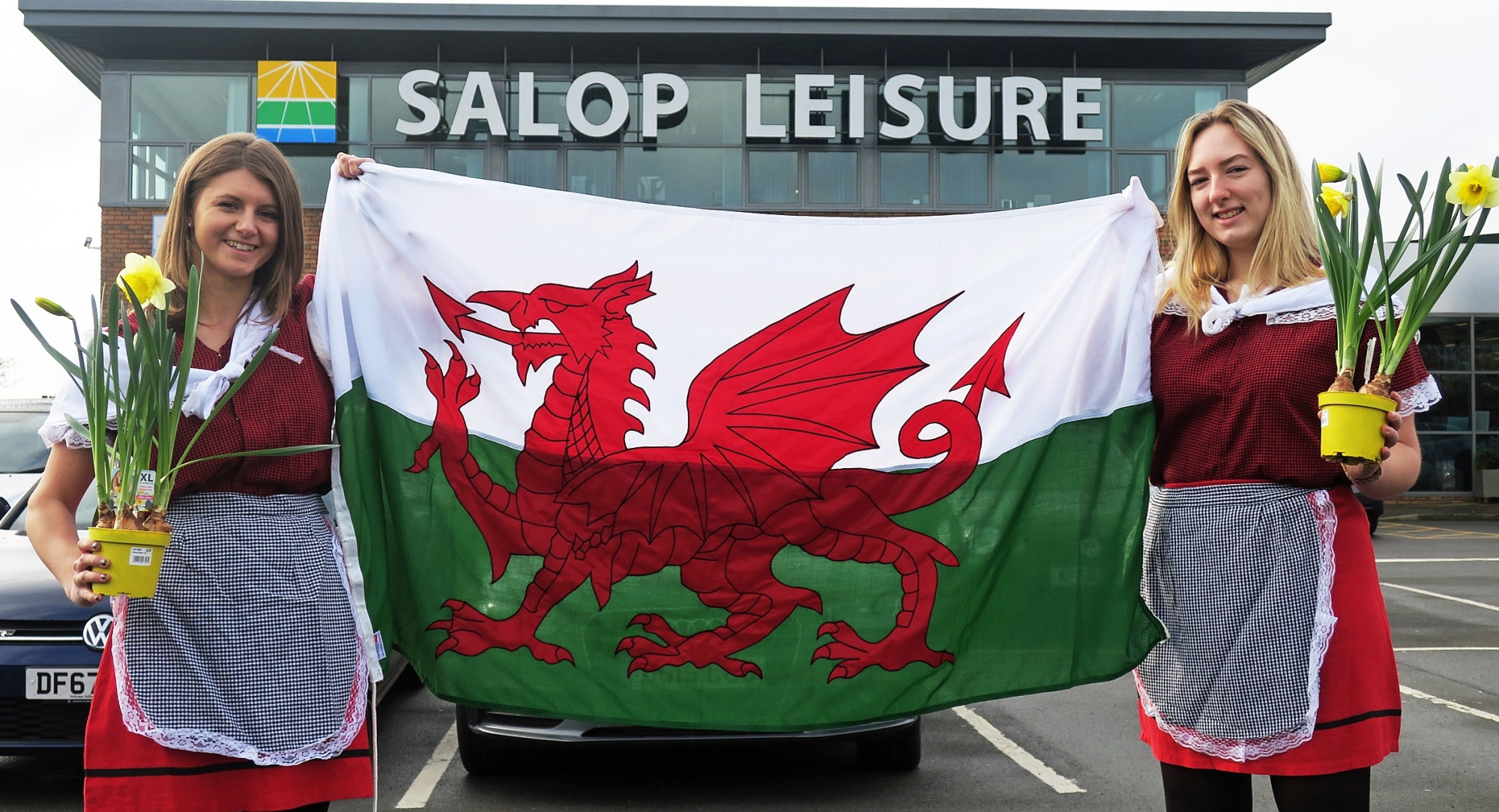 Picture caption: Laura Wilde (left) and Hope Winchester flying the flag for Wales in preparation for St David's Day at Salop Leisure.
The company, which has other sales centres in Machynlleth and Stourport-on-Severn, spends thousands of pounds every year promoting Mid Wales as a holiday destination for existing owners and prospective buyers of luxury holiday homes and lodges, touring caravans, motorhomes and campervans from the West Midlands and North West England.
Salop Leisure owns nine holiday home touring parks in the region and supplies caravans to more than 200 parks across Mid Wales and the Heart of England.
Located at the gateway to Wales, Shrewsbury has strong Welsh roots. In fact, researchers discovered that Shrewsbury has more adults with Welsh names than the capital city of Cardiff.
Val Hawkins, chief executive of MWT Cymru, which represents more than 500 hospitality and tourism businesses in Mid Wales, praised Salop Leisure for continuing to promote the region as a tourism destination.
"Salop Leisure does a fantastic job to help us put the Real Mid Wales on the map in our key target markets of the West Midlands and North West England," she said. "The Wales Visitor Survey highlighted just how important and caravan and camping sector is to the economy of Mid Wales."
Salop Leisure's chairman Tony Bywater says St David's Day is always an important date in the company's calendar because Wales is at the heart of the business. 
"It's an opportunity to not only celebrate the nation's patron saint but also to promote the beautiful landscape and many attractions that Wales has to offer visitors," he added. "Customer feedback indicates that Mid Wales is one of the most popular destinations in the UK with people looking to buy a caravan holiday home."