'Santastic' response to fundraising Salop Santa Dash
More than 300 runners, joggers and walkers of all ages entered the Christmas spirit by dressing up as Santa for this year's Salop Santa Dash in Shrewsbury on Sunday.
The event, which raised £680 for the Zac Oliver Appeal, was declared a big success by organiser Salop Leisure. 
The Santas could choose to run, jog or walk one or two laps of a 2.5-kilometre circuit around the 55-acre grounds of Salop Leisure and the Love2Stay resort.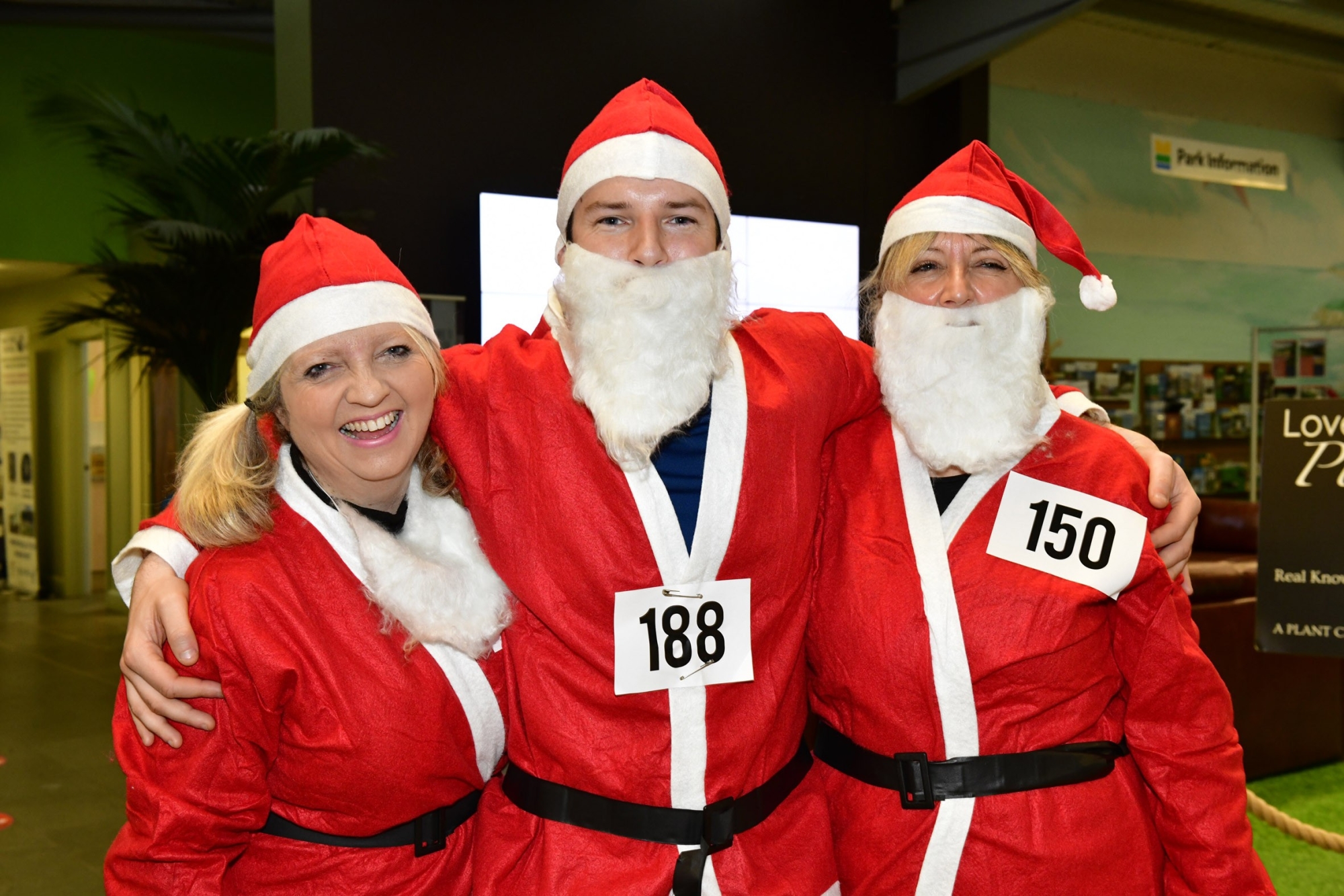 Three of the runners who completed the Santa Dash, Susan Taylor, Max Ball and Sam Stubbs from Salop Leisure.

The first runner completed the two laps in 19 minutes whereas others who were pushing children in pushchairs jogged and walked at a more leisurely pace. 
"We had lots of positive comments about the event, ranging from how great it was to see so many Santas in one place to what a nice place it was to run," said Ed Glover, Salop Leisure's marketing manager.
"Most of the Santas ran or jogged and we had around 80 children who completed the dash, some in pushchairs. This is the second year we have organised the Santa Dash and we will definitely hold it again next year."
The donation to the Zac Oliver Appeal will contribute towards potentially life-saving treatment for a rare strain of acute lymphoblastic leukaemia.
Zac's uncle and aunt, Wayne and Sarah Bowen and cousin Alexa were among the Santas who took part in the dash.
Zac has recently returned home after receiving the first stage of his CAR-T treatment at a hospital in Philadelphia. Fundraising, which has been supported by celebrities, stands at more than £630,000.
Prior to the event, Zac's father, Mark Garbett, thanked Salop Leisure and the "amazing" people who were supporting the appeal. "At the end of the day, it's our son's life and he has been given the best chance of survival thanks to the wonderful people who are supporting the appeal," he added. 
The Santa Dash was just one element of Salop Leisure's Christmas events programme - www.salopchristmas.co.uk – which includes Santa's Grotto, tea with Santa at Love2Stay and an outdoor skating rink.