Local food and produce
8th February 2010
... Comments
---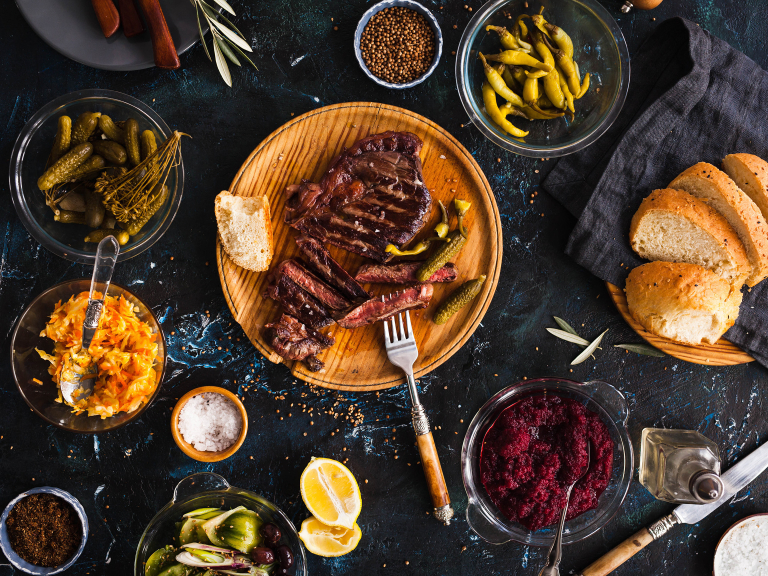 Since moving back to Shrewsbury, I've been back in love my food. Not in a Chocaholic weighing 20-stone kind of way, just appreciating good food and drink. In London, most of my meals were simply to keep me going rather than something to enjoy. Mind you, sarnies and the odd Maccie Ds are rarely things to write home about.
In Shrewsbury we seem to be spoilt for choice for great local produce. Eating out may not be London but there are still fine Italian Restaurants and Indian Restaurants and so on. We don't have to pay £5 for a pint either. 'Buy Local' is an oft-used phrase and although there are some who just 'talk local', I think we like to support our Shropshire farmers and food suppliers. TV might have something to do with it, with Jamie and Hugh banging on about organic local food. And most people love MasterShout, which must be coming back soon. "LOVELY PLATES OF FOOD!" Gregg yells, appreciately patting his tummy. Top stuff.
The only trouble with Shrewsbury restaurants is that not all of them are child friendly. Since becoming a father, I haven't turned into the awful Everywhere must cater for my child kind of parent but when the restaurant you're looking at has 30 steps and my pram resembles a Sherman tank, it ain't gonna happen. So many a time we end up at Pizza Express. Not really local, I guess, but they're friendly and don't seem to mind my two-year old running amok and trying to pull the waitress's trousers down.
Lamb casserole tonight, with meat supplied by our fave Shrewsbury butchers. Plus a cheeky bottle of red perhaps. I'm no wine connoisseur but it's from Chile and costs over a fiver, so it should be alright. And then in recompense, I'll go to fitness class at Freefighters MMA. Although not straight afterwards, obviously. (Did that once, and never again. The worst idea since taking my daughter swimming in the middle of potty training.) As I said, I love my food but I've got to burn it off somehow. Especially with skinny jeans making such a comeback....