A Meeting of 2 faiths and 2 cultures
30th November 2015
... Comments
---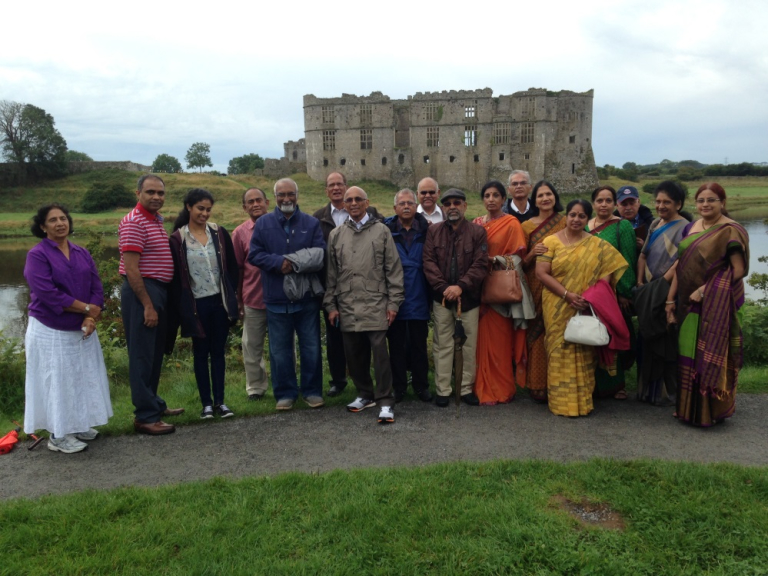 As a tour guide I get the opportunity to lead many differing groups and individuals around our County.  One of my most interesting jobs this summer was to lead a group of Indians for a long weekend around Pembrokeshire. They were all were employed as doctors, retired doctors or spouses.  Not only were they connected through their country and profession but they all originated from a specific region within Southern India.
They were very proud of their Indian heritage and culture and their dress reflected this continued tradition.  They were also a very religious and spiritual people and their lives appeared to embody their beliefs.  I am also proud of my own Welsh people, culture and tradition and have a deep Christian and spiritual understanding.  In the face of these differences, there could have been uneasiness, misunderstanding and conflict.
As a professional my natural instinct is to remain professional and to always put the needs and expectations as foremost so no worries there.  What we experienced during this weekend was a great sharing, we visited places of significant Christian heritage St Davids cathedral and Caldey Island.  Our Indian guests expressed great reverence and respect for our own culture and faith and as the weekend unfolded a deep connection and shared common spirit revealed itself. 
The occasion gave me further opportunity to reflect upon cultural and religious differences around the globe and recent terror events horrifically show how these differences on rare occasion become evil manifestations.  A true spirit and deep awareness must surely touch each one of us, connect us in a shared understanding and oneness.  At its deepest level the spirit will unite and hold the differences together with each other.
Having been brought up in Wales our spiritual heritage is that of a proud Christian nation, despite a stark decline of faith during the last few decades.  So naturally when searching for deeper spiritual meaning it would appear wise to follow the steps of our immediate ancestors rather than abandoning this for a faith practice the other side of the world.  It is the same principle of our Indian visitors, their upbringing and culture was that of a Hindu origin and this would be their closest and most natural expression of faith.
The real learning from a meeting of faith and culture is to hold onto your own immediate faith and culture while acknowledging and respecting the differences presented from a culture and faith from the other side of the world. Both groups can be proud of their inheritance and express this in a full and free manner.  Then we reach the game changer of understanding.  We are different, we are both proud and express our inheritance in diverse ways but we both respect each other's origin and position. We hold those differences with each other not in division but in a share unity and humanity and we discover a common spirit and connectedness at the heart of each other.
To read more about Pembrokeshire Paths on thebestof Pembrokeshire click here
The Haven,
Llandysilio,
Clunderwen,
SA66 7UE