Top tips on getting a new front door
23rd November 2016
Author: Chloe G
Comments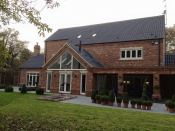 Slab doors
These are customised doors that are perfect for those that has unusual door size. You can also opt for this kind if you wish to customise your door and have it made based on your own design. Some home renovation and hardware stores offer these kind but you also have to make sure that you'll be able to get the other needed accessories for your door to be fully functional. Jambs and hinges are vital in replacing our doors and you might need professional help in installing these as it may need special tools, knowledge and steps before we can actually fit everything in our doorway.
This kind of door is also tricky as the measurements need to be extremely accurate to avoid leaks and potential weakness against force entry.
Prehung Doors
These are the kind of doors that are pre- cut and pre- designed. You can simply choose which type, color and material the door is made from. Most of the homeowners prefer this kind to save time and to save them from any error that might happen when customising a front door. You can choose from different sizes depending on your home's doorway. Also, the jams and hinges are already attached so you don't have to worry whether you have placed the jambs and hinges wrong or not.
Whichever kind of door you have chosen; Dream Installations Ltd is always ready to help you in fitting and installing your new door for your home. Their expertise and years of service will ensure you a smooth business with them from the planning process until the finishing touches in installing our new front door.