Choose the right garage door for your home
19th August 2016
Author: Chloe G
Comments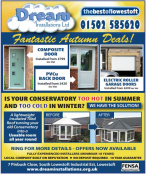 For you to have an idea what are the different types of garage doors to choose from, we have made a selection of the different types available in the market.
Garage doors usually have four different types: swing up, roll- out, slide to side and swing out.
Swing out and slide to side doors are perfect for those who don't want anything in their garage ceiling which is quite uncommon as most car owners used the space above the roll up doors. However, if you're going for a classic roll- up door, make sure you have enough space between your ceiling and the opening of your garage door.
How to choose the perfect style?
Always partner your garage doors on what your house looks like. If your home is like nature- inspired, you can opt for swing- out doors. Manufacturers nowadays try to preserve older designs by incorporating them into modern structures. Gone are the days where garage doors are simply doors that open and close whenever you need a car. Modern garage doors have stained glass for decorative purposes and glass panels or windows so that natural light pass through inside your home.
Garage doors can be made with different materials such as wood, steel, or aluminum. Each material has different cost and has different construction to provide a sturdy and long- lasting garage door. Wood gives off the vintage and authenticity vibe while metal structures can give off the modern look without comprising security as it is generally known to be sturdy. Aluminum might be slightly pricier than wood and steel but it can definitely last longer than the two.
After you have decided which type of garage doors you're going to get for your own home, you can contact Dream Installations Ltd as they'll help you renovate your home or install the garage door for you. You no longer have to worry as they will manage every product you need services with.