What's on in Lichfield this week........
It's Pumpkin Time!
Daily from Monday 25th - Sunday 31st October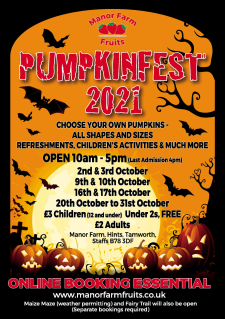 The team down at Manor Farm Fruits have been busy growing over 60,000 pumpkins, squashes & gourds for you to choose in their annual Pumpkin Fest! Booking essential.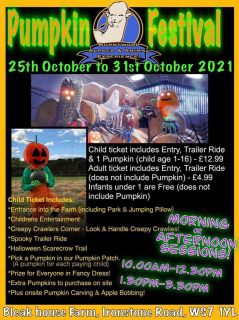 You will be able to experience the Pumpkin Festival at Burntwood Alpacas & Animal Experiences booking essential, great for the kids! 
Monday 25th, Tuesday 26th & 30th October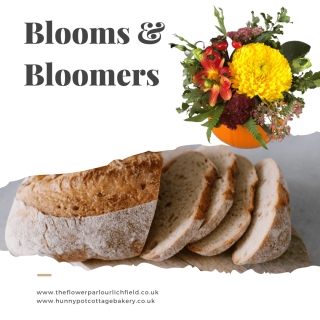 How about something a little different learn to make a delicious loaf & then design a floral display for Halloween on this Blooms & Bloomers workshop, booking essential. 

Can highly recommend this one, if you haven't seen it yet you can catch it at the Lichfield Garrick until Thursday. Make sure you grab the popcorn! 
Book your place for the new Gruesome & Ghostly tour showcasing Lichfield's dark past. Find out more right here.
Tuesday 26th & Thursday 27th October
How about a morning Art Class, held locally in Barton at the Red Carpet cinema
Wednesday 27th October
If you or someone you know lives on their own and would like some company, then book them a place at the Advantage Day Centre every Wednesday at the Curborough Community Centre.  
Thursday 28th October 
New Belly Dancing Class 
Join this new 10 week course starting this week, for more details click here.  
Friday 29th October

If you are a cricketing fan then you won't want to miss this. Catch Geoffrey Boycott at the Lichfield Garrick. So much has happened since he last appeared in 2017. Booking essential. 
Saturday 30th October
Be Afraid very afraid......

Visit the Lichfield Garrick & watch The Haunted House a family themed show. Booking essential.
Watch your favourite local rugby team as they take on Ludlow at the Lichfield Rugby Club kick off is 3pm but food & drinks available from the clubhouse from 1pm.
Coming up next week.....
 It's Bonfire night!
Friday 5th November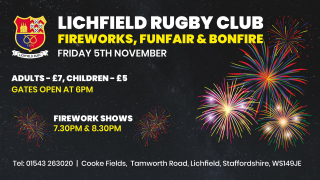 It will be bigger, the fireworks brighter all because we missed last year so much! Get yourselves down to the Lichfield Rugby Club for their epic Bonfire Display, with fun fair, bar and refreshments available.
Saturday 6th November
If you can't make Friday or you just can't get enough of fireworks, then get yourselves to the Hammerwich Cricket Club this Saturday. 
Whatever you are up to this week in Lichfield have a fabulous time!
If you run a local event and want us to 'shout' about it then follow this link.