Music Bus Lichfield & Sutton Coldfield
MONDAY
St Chads Church Hall
5 Giffords Croft
Lichfield
Staffs WS13 7HG
THURSDAY
Thomas Spencer Church Hall
Whittington
Staffs WS14 9JX
FRIDAY
Banner Gate Community Centre
35 Reay Nadin Drive
Sutton Coldfield
B73 6UR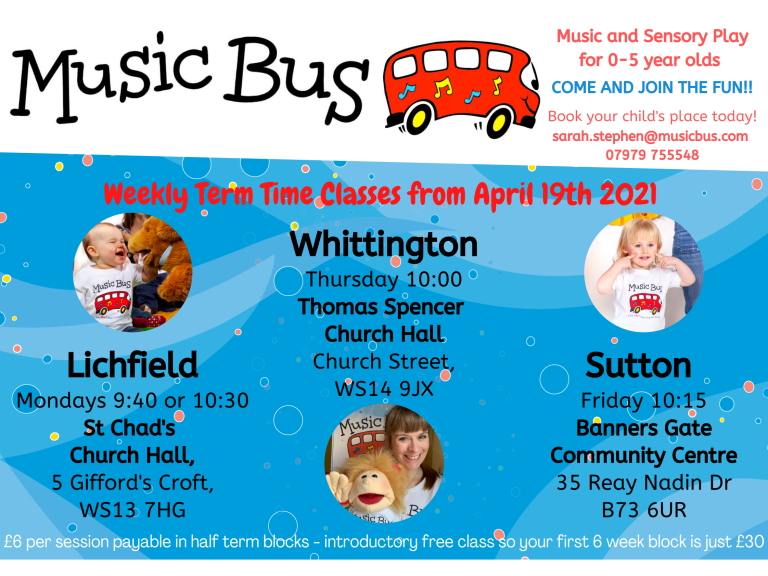 Would you like to spend quality time with your little one doing a fun and rewarding activity?
The Music Bus is based around music and sensory play for 0 - 5 year olds.
Music Bus classes include rhyme, movement and action songs, puppets, storyboard, sensory play and more!
Sarah ran a successful class in the NorthWest before moving to Lichfield last year.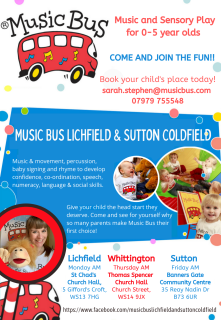 Music Bus is coming to the following venues:
St Chad's Church Hall, The Leasowe Lichfield WS13 7HG on Monday's
Thomas Spencer Hall Church Street Whittington WS14 9JX on Thursday's
Banners Gate Community Hall 35 Reay Nadin Drive Sutton Coldfield B73 7UR on Friday's.
Term time only.
Your first 6 classes are just £30!
To book contact Sarah by phone or email.
Future dates
Friday 7th May 10:15am until 10:55am
Monday 10th May 9:40am until 10:20am
Monday 10th May 10:30am until 11:10am
Thursday 13th May 10:00am until 10:40am
Friday 14th May 10:15am until 10:55am
Monday 17th May 9:40am until 10:20am
Monday 17th May 10:30am until 11:10am
Thursday 20th May 10:00am until 10:40am
Friday 21st May 10:15am until 10:55am
Monday 24th May 9:40am until 10:20am
Monday 24th May 10:30am until 11:10am
Thursday 27th May 10:00am until 10:40am
Friday 28th May 10:15am until 10:55am
Monday 7th June 9:40am until 10:20am
Monday 7th June 10:30am until 11:10am
Thursday 10th June 10:00am until 10:40am
Friday 11th June 10:15am until 10:55am
Monday 14th June 9:40am until 10:20am
Monday 14th June 10:30am until 11:10am
Thursday 17th June 10:00am until 10:40am
Friday 18th June 10:15am until 10:55am
Monday 21st June 9:40am until 10:20am
Monday 21st June 10:30am until 11:10am
Thursday 24th June 10:00am until 10:40am
Friday 25th June 10:15am until 10:55am
Monday 28th June 9:40am until 10:20am
Monday 28th June 10:30am until 11:10am
Thursday 1st July 10:00am until 10:40am
Friday 2nd July 10:15am until 10:55am
Monday 5th July 9:40am until 10:20am
Monday 5th July 10:30am until 11:10am
Thursday 8th July 10:00am until 10:40am
Friday 9th July 10:15am until 10:55am
Monday 12th July 9:40am until 10:20am
Monday 12th July 10:30am until 11:10am
Thursday 15th July 10:00am until 10:40am
Friday 16th July 10:15am until 10:55am
Monday 19th July 9:40am until 10:20am
Monday 19th July 10:30am until 11:10am
Thursday 22nd July 10:00am until 10:40am
Friday 23rd July 10:15am until 10:55am
Thursday 2nd September 10:00am until 10:40am
Friday 3rd September 10:15am until 10:55am
Monday 6th September 9:40am until 10:20am
Monday 6th September 10:30am until 11:10am
Thursday 9th September 10:00am until 10:40am
Friday 10th September 10:15am until 10:55am
Monday 13th September 9:40am until 10:20am
Monday 13th September 10:30am until 11:10am
Thursday 16th September 10:00am until 10:40am
Friday 17th September 10:15am until 10:55am
Monday 20th September 9:40am until 10:20am
Monday 20th September 10:30am until 11:10am
Thursday 23rd September 10:00am until 10:40am
Friday 24th September 10:15am until 10:55am
Monday 27th September 9:40am until 10:20am
Monday 27th September 10:30am until 11:10am
Thursday 30th September 10:00am until 10:40am
Friday 1st October 10:15am until 10:55am
Monday 4th October 9:40am until 10:20am
Monday 4th October 10:30am until 11:10am
Thursday 7th October 10:00am until 10:40am
Friday 8th October 10:15am until 10:55am
Monday 11th October 9:40am until 10:20am
Monday 11th October 10:30am until 11:10am
Thursday 14th October 10:00am until 10:40am
Friday 15th October 10:15am until 10:55am
Monday 18th October 9:40am until 10:20am
Monday 18th October 10:30am until 11:10am
Thursday 21st October 10:00am until 10:40am
Friday 22nd October 10:15am until 10:55am
Monday 1st November 9:40am until 10:20am
Monday 1st November 10:30am until 11:10am
Thursday 4th November 10:00am until 10:40am
Friday 5th November 10:15am until 10:55am
Monday 8th November 9:40am until 10:20am
Monday 8th November 10:30am until 11:10am
Thursday 11th November 10:00am until 10:40am
Friday 12th November 10:15am until 10:55am
Monday 15th November 9:40am until 10:20am
Monday 15th November 10:30am until 11:10am
Thursday 18th November 10:00am until 10:40am
Friday 19th November 10:15am until 10:55am
Monday 22nd November 9:40am until 10:20am
Monday 22nd November 10:30am until 11:10am
Thursday 25th November 10:00am until 10:40am
Friday 26th November 10:15am until 10:55am
Monday 29th November 9:40am until 10:20am
Monday 29th November 10:30am until 11:10am
Thursday 2nd December 10:00am until 10:40am
Friday 3rd December 10:15am until 10:55am
Monday 6th December 9:40am until 10:20am
Monday 6th December 10:30am until 11:10am
Thursday 9th December 10:00am until 10:40am
Friday 10th December 10:15am until 10:55am
Monday 13th December 9:40am until 10:20am
Monday 13th December 10:30am until 11:10am
Thursday 16th December 10:00am until 10:40am
Friday 17th December 10:15am until 10:55am
Thursday 6th January 10:00am until 10:40am
Friday 7th January 10:15am until 10:55am
Monday 10th January 9:40am until 10:20am
Monday 10th January 10:30am until 11:10am
Thursday 13th January 10:00am until 10:40am
Friday 14th January 10:15am until 10:55am
Monday 17th January 9:40am until 10:20am
Monday 17th January 10:30am until 11:10am
Thursday 20th January 10:00am until 10:40am
Friday 21st January 10:15am until 10:55am
Monday 24th January 9:40am until 10:20am
Monday 24th January 10:30am until 11:10am
Thursday 27th January 10:00am until 10:40am
Friday 28th January 10:15am until 10:55am
Monday 31st January 9:40am until 10:20am
Monday 31st January 10:30am until 11:10am
Thursday 3rd February 10:00am until 10:40am
Friday 4th February 10:15am until 10:55am
Monday 7th February 9:40am until 10:20am
Monday 7th February 10:30am until 11:10am
Thursday 10th February 10:00am until 10:40am
Friday 11th February 10:15am until 10:55am
Monday 14th February 9:40am until 10:20am
Monday 14th February 10:30am until 11:10am
Thursday 17th February 10:00am until 10:40am
Friday 18th February 10:15am until 10:55am
Monday 21st February 9:40am until 10:20am
Monday 21st February 10:30am until 11:10am
Thursday 24th February 10:00am until 10:40am
Friday 25th February 10:15am until 10:55am
Monday 28th February 9:40am until 10:20am
Monday 28th February 10:30am until 11:10am
Thursday 3rd March 10:00am until 10:40am
Friday 4th March 10:15am until 10:55am
Monday 7th March 9:40am until 10:20am
Monday 7th March 10:30am until 11:10am
Thursday 10th March 10:00am until 10:40am
Friday 11th March 10:15am until 10:55am
Monday 14th March 9:40am until 10:20am
Monday 14th March 10:30am until 11:10am
Thursday 17th March 10:00am until 10:40am
Friday 18th March 10:15am until 10:55am
Monday 21st March 9:40am until 10:20am
Monday 21st March 10:30am until 11:10am
Thursday 24th March 10:00am until 10:40am
Friday 25th March 10:15am until 10:55am
Monday 28th March 9:40am until 10:20am
Monday 28th March 10:30am until 11:10am
Thursday 31st March 10:00am until 10:40am
Friday 1st April 10:15am until 10:55am
Monday 4th April 9:40am until 10:20am
Monday 4th April 10:30am until 11:10am
Thursday 7th April 10:00am until 10:40am
Friday 8th April 10:15am until 10:55am
Monday 11th April 9:40am until 10:20am
Monday 11th April 10:30am until 11:10am
Thursday 14th April 10:00am until 10:40am
Friday 15th April 10:15am until 10:55am