Vote for Derbyshire, Leicestershire & Rutland Air Ambulance in Nationwide's new online Charitable Giving Scheme, 'The Big Local'
7th August 2013
... Comments
---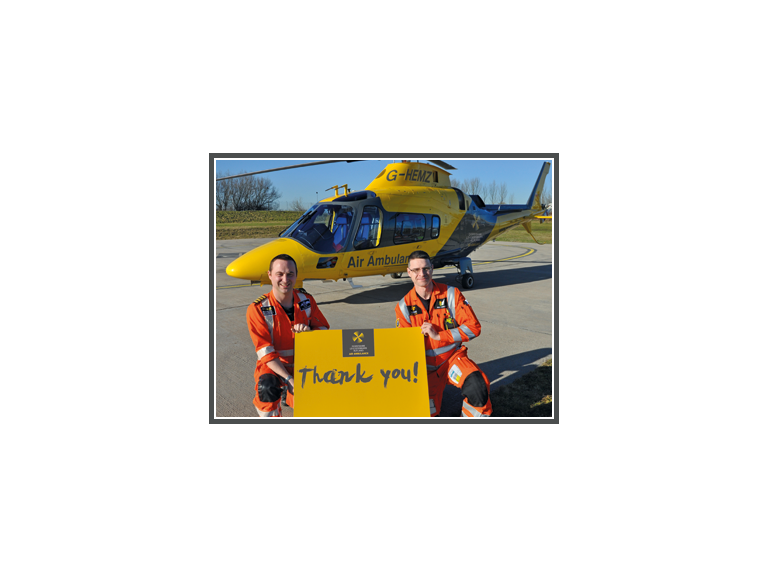 Derbyshire, Leicestershire and Rutland Air Ambulance is shortlisted and could receive £5,000 if the charity receives enough votes. 
Nationwide Building Society's scheme allows members of the public to vote online for the charities they would like to receive £5,000 of funding, as part of the Society's new initiative - The Big Local.

Each month Nationwide choose three charities nominated by its members from a different UK region.  The three chosen charities will each be awarded £200 and members will then be able to visit the new 'Big Local' website http://your.nationwide.co.uk/thebiglocal and vote for which of the three they would most like to receive an additional £5,000 of funding.

The Big Local also features on Nationwide's Facebook page (http://www.facebook.com/NationwideBuildingSociety - look for The Big Local button) allowing people to not only vote for their preferred charity but also share their choice with their friends and family, potentially generating even more votes.
The scheme is supporting charities in the East Midlands in August. Derbyshire, Leicestershire and Rutland Air Ambulance is one of the three charities shortlisted.

Based at East Midlands Airport, DLRAA provide a life-saving helicopter emergency medical service across the three counties, being on call and ready to respond when people need them most.

With an average of 3 missions every single day, DLRAA rely entirely on the support of the local community and schemes just like Nationwide's The Big Local. The charity is looking to receive as many votes as possible through The Big Local during August to secure the £5,000 worth of funding.

David Reeves, Fundraising Manager for DLRAA said: "Voting for DLRAA on this scheme is a great way for the public to support their local air ambulance, without ever having to open their purses."

David added: "We don't get any statutory support, and it's a community of lifesavers, like those voting for us, that help us save lives every day."

The Big Local forms part of Nationwide's Living on Your Side initiative, which has seen the Society commit to investing and unlocking £15 million for local communities over the next five years. 

Chad Rogerson, Senior Citizenship Manager at Nationwide, commented: "Nationwide is owned by our members, not shareholders, and we believe they should have a real say in how and where we support the community.

"The Big Local website allows members to vote for one of three member-nominated local charities, providing information about what each of the charities do and giving members the chance to monitor each charity's progress.  It is a fantastic way for our members to get involved and tell us exactly where our funding, volunteering and fundraising efforts should be focused - after all, our members know their communities better than anyone else."

"We are supporting charities from August of the UK in August. Derbyshire, Leicestershire and Rutland Air Ambulance is one of three great causes nominated by our members, and we encourage everyone to vote."

To find out more about the Big Local and to cast your vote, please visit http://your.nationwide.co.uk/thebiglocal or the Nationwide Facebook page.
To nominate a charity that you think should be supported through the Big Local in the future, and to find out more about Nationwide's Living on your Side initiative, please visit the Living on your side website or visit your local branch.