Sumptuous Dinner at Traeth Bar & Grill
22nd May 2011
... Comments
---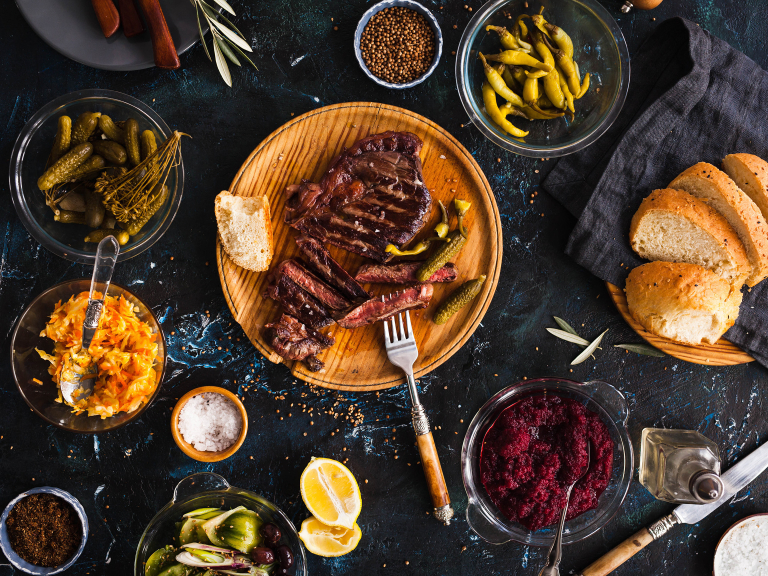 The glory and naughtiness of it! Yes I admit it.  I have taken two days off out of the business as my sister, Ginny and my brother in law  Stuart, are visiting from the States. (they live in Colorado)

What a wonderful time we have had.  A energising walk from Newport (Pembs) through to the Old Sailor (Pub) down at Pwllgwaelod by Dinas Head.  The sun was out although a strong breeze kept us cool.  Searching for Choughs which sadly were not to be seen but we saw Wheatears, skylarks and the wonderful Fulmars.  Out to sea we caught glimpses of the elegant Gannets.  All this walking created a huge appetite for dinner…..

……And a real gourmet treat.  Ginny and Stuart took us out to dinner and chose Traeth Bar & Grill at New Quay, not only for the food but the view!

From out table we could see over the bay looking north towards Snowdonia. The view was beautiful and the food well…….  Nigel the owner is very choosy about the meat and poultry he sources and it is always superb. 
The menu is small and select as everything is cooked to order.  Ginny and Stuart are well travelled foodies and regularly eat out, so I was thrilled that just reading the menu they were excited by the innovative choice on offer.  The only disappointment was that the Calves Liver had been pre- ordered by other diners and there was No More.  Stuart teased Nina (restaurant manager) as that is what he wanted but settled on advice from Nina on the "3 little pigs" main – it was an inspired choice. Succulent Sausage, Black Pudding and Pork Chop.  He started with, in his words "a divine pate".  My sister chose "Moules Mariniéres" to start followed by Pan fried Plaice which was beautifully cooked and served with chips dusted with rosemary.  David (hubby) had Leek and Thyme soup followed by Corned Fed Chicken with leek and bacon dressing.  The Chicken was very moist and beautifully cooked.  I went for a Steak Tartare for a starter which was sublime and followed this with lobster, so fresh.  Direct from the bay that morning!
My sister and I rarely eat desserts but Nigel's "Panacotta" is irresistible.  David with a sweet tooth went for the Sticky Toffee pudding – basically he thinks Nigel makes the best!  Stuart had the cheese board and a glass of port.  All in all my sister and brother in law were very impressed!

Definitely needed a long walk the following day!!
To book a table at Traeth Bar and Grill call 01545 509 057