Gourmet Valentine's Dinner at Yr Hen Fuwch Goch/The Old Red Cow
14th February 2010
... Comments
---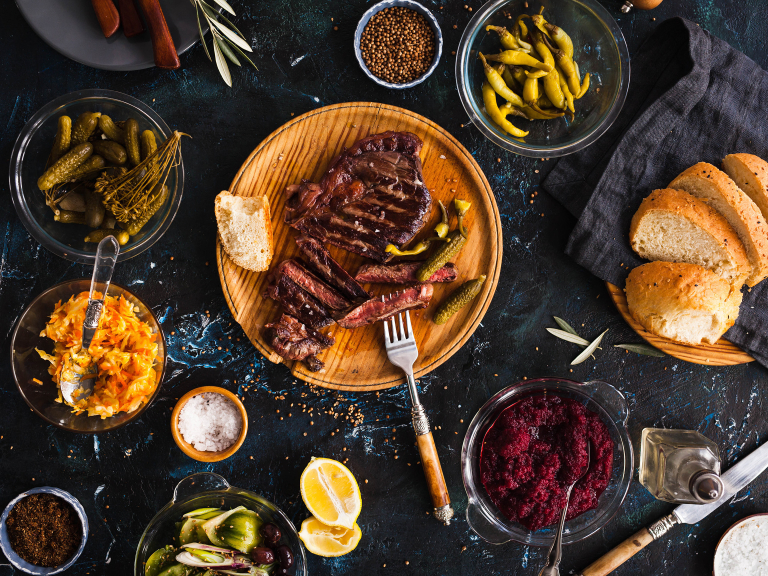 My romantic husband thought a Gourmet Valentine's dinner at the Old Red Cow / Yr Hen Fuwch Goch now Ludo's would do the trick and he was so right!

Ludo is a talented chef who produces innovative menus that tempt the taste buds. Let me share the menu with you.

Once taken to our table complete with a stunning single red rose in an elegant long stem vase we were given our appetiser.  Even David was impressed we had the tastiest haggis we have ever had. The haggis was rounded into soft balls served warm with a delectable whisky custard.

On to the starter – Scallop Broth with Fresh Vegetables & Coriander.  This dish had a Japanese flavour.  Very delicate.  The fine julienne vegetables were still crunchy in the lovely broth.  The scallops were dropped into the broth with the hint of coriander at the last moment so just cooked through.  It was a wonderfully light dish.

Main Course:  Stuffed Quail with Thyme Mousse, Provencal Vegetables, Parsnip Fritter & Herb Jus.  The Quail was cooked to perfection tender and moist.  The Herb Jus was rich but not heavy, the vegetables still had a crunch to them and the Parsnip Fritter was inspired giving perfect balance. A family phrase springs to mind.  Completely Yum!

Pre-dessert – Lemon Posset with Orange Soldiers.  This was rich but perfect as it was egg sized – literally!  Served in an egg shell it looked just like a soft boiled egg but so lemony – quite wonderful and the Orange Soldiers accompanied the posset beautifully and a bonus to me was completely Gluten Free!

Dessert – Raspberry & Champagne Jelly with Passion Fruit Coulis – To me this was one of the truly best desserts I have ever had.  I loved the freshness, the tang and the lightness.  No diary in sight!  The Jelly was light and only just able to hold its own – clever culinary skills.  It was a perfect end to a perfect meal.

However over coffee Ludo served some amazing petit fours. I am not usually a fan of white chocolate as often they are too sweet and sickly but these were again Completely Yum.  The mood over the petit fours reminded me of the film Chocolat.  If you have seen it you will get the picture.  As they say in Welsh: Bendigedig!
Keep an eye on the events pages as Ludo's will be delighting foodies with another Gourmet Evening sometime in March