Gluten Free and Eating Out and a Recipe too!
29th July 2009
... Comments
---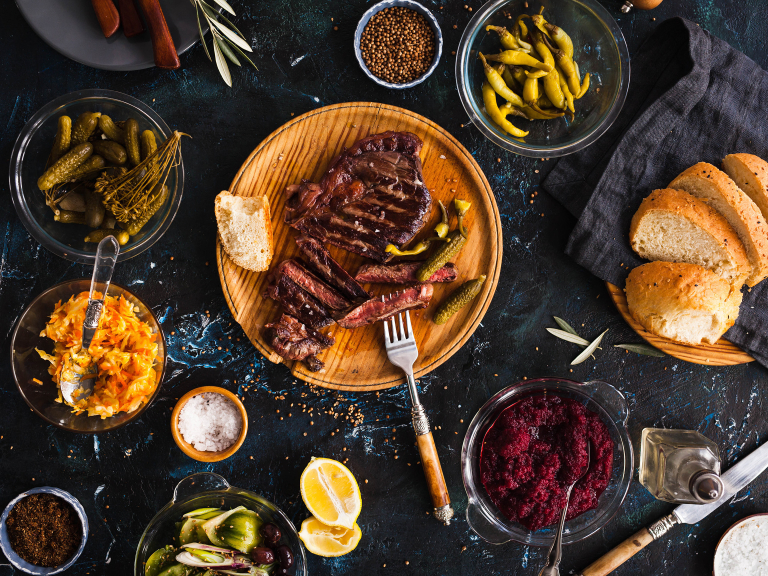 I recently blogged about being Gluten Free on my sister site thebestof Carmarthen where I gave hints and tips on what to look out for when buying pre packed food or indeed tinned food as much contains Gluten or indeed wheat as a filler. 
Indeed it is important when eating out.  Although it is dangerous to generalise many pubs buy in pre prepared food and again this is a tricky for the Gluten Intolerant.  Do always ask the ingredients but there are things of which to be seriously aware such as chips.  Many chips nowadays are coated in flour which contains gluten and once thrown in the hot oil pan it will contaminate the oil pan so even if chips are not coated but cooked in that oil it can seriously affect someone with Coeliac Disease.
The better restaurants, particularly those who pride themselves on freshly cooked food will understand different dietary needs and many now make sauces, gravies and jus without flour.  Things to watch for are recipes like fish cakes – these often will have bread crumbs mixed in.  Dressed Crab has caught me out before now - as bread crumbs are often mixed in with the brown meat. 
Whenever you are going to eat out do call the restaurant or pub in advance to make sure they are aware of your dietary needs.
Desserts are the thing I feel I miss out on the most.  I get bored with a basic fruit salad and would love to be inspired by something gooey and yummy.  For instance I love Cheesecake but cannot dare not have  it as the base will always contain gluten.  At home if making a cheesecake I rarely make a base or if I do I use gluten free ginger biscuits – which work really well.
When blogging on my sister site I included a recipe for Lemon Polenta Cake so click here if you would like a copy but I thought today I would give you my extremely indulgent .............

Ginger Cake
This is rather an extravagant cake but very yummy!!
Ingredients: 
250g butter
125g of soft brown or muscavado sugar
125g of black molasses
6 large eggs, beaten
250g ground almonds
175g Polenta
1 teaspoon baking powder
1 tablespoon of ground ginger
300g of stem ginger in syrup (Normally 2 jars)
Ginger Glaze
4 stem ginger finely chopped
The syrup from both jars
Method
1. Strain syrup from stem ginger and put to one side for later.  Finely chop all stem ginger leaving 4 stems for glaze.
2. Cream butter, sugar and molasses until light and fluffy. Gradually beat in eggs.
3. Fold in almonds, polenta, baking powder, ground ginger and chopped stem ginger.  Mix thoroughly.
4. Spoon mixture into prepared 10inch baking tin and bake for 45-55 minutes at 180 º C (350 ºF, gas mark 4).  (I always line my tins with parchment paper)
5. Meanwhile prepare the Ginger Glaze by first boiling the ginger syrup for around 6 minutes, add chopped ginger and bring back to boil for a further 5 minutes
6. When cake is cooked, set aside to cool for around 10 minutes and then remove cake from tin.
7. Spoon the syrup with chopped ginger over the top of the cake whilst the cake is still warm.
8. When completely cool cut into portions.  Wrap in foil to keep moist and fresh.  This cake freezes well.  But defrost, at room temperature.
Enjoy!!!