Eating Out
18th July 2009
... Comments
---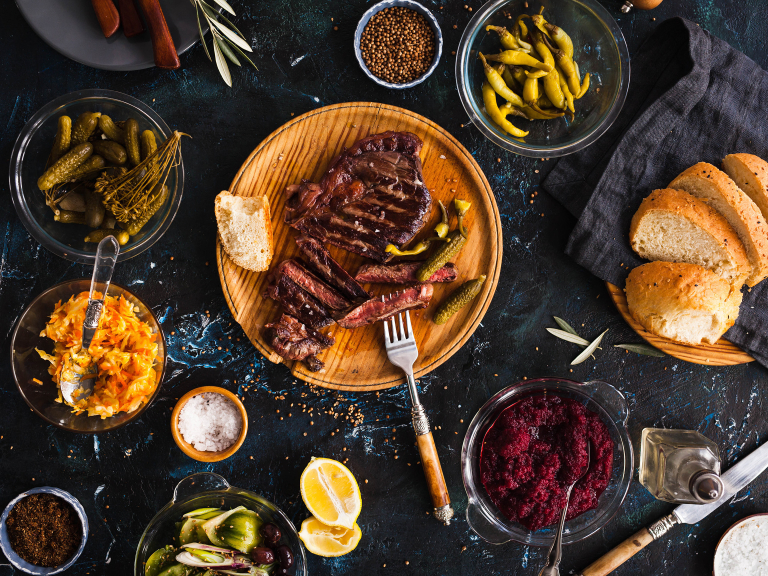 This week I have been out and about and one restaurant that really caught my eye was Yr Hen Fuwch Goch (to those of you, like me do not speak Welsh it means The Old Red Cow) just on the outskirts of Newcastle Emlyn.
This is a delightful restaurant or as Lowri describes her establishment a Gastro Pub but actually I think it is so much more than that.  It can only accommodate 25 covers so it is advisable to book early especially for Friday and Saturday evenings.  I left it too late for this Saturday.  Anyway back to the ambiance of this lovely Gastro Pub.  It has a strong feel of French Cafe about it and this would not be surprising considering Lowri's partner Ludo is French.  They make a brilliant team .  Ludo is an accomplished Chef and prides himself on using local, fresh produce when ever possible.  The menu is small but everything is cooked to order.  There is definitely a French/Welsh feel and the food is amazing.  They are open Wednesday through to Sunday for both lunch and Dinner.  Call Lowri to book a table on 01239 710588 
As a constrast, my favourite pub is just down the road from me in Abercych.  The Nags Head is a 16th Century Inn with loads of character. The food is good pub food and the welcome is always genuine despite being a very busy pub particularly at weekends.  This is a great family pub and children are always welcome.  The Pub has a playground especially for Children and there is a garden just by the River.  Part of the Garden is under cover which is perfect for those odd showers!!  During the summer holidays Sam will be offering Cream teas both in the garden or on inclement days inside the Pub.  It is a real family affair and Sam's Mum makes the most delicious and yummy desserts and I believe will be catering for the afternoon teas.  Booking is always advisable at the weekends.  Call Sam on 01239 841200
Another favourite restaurant - and hubby and I are going there this evening is Gardd y Nos (Night Garden in translation) and it is exactly that. A great setting, - you will think you have been transported to a mediterranean garden - shame about our Welsh weather at the moment - as it would have been good to eat al fresco!
Just like the previous two, there is always a warm welcome at Gardd y Nos just outside Aberporth village.  The food is completely yummy and the cuisine is mainly modern British.  Hubby just loves the Pie and it is no ordinary  Pie.  Each day there is a different filling, usually meat but there are vegetarian alternatives.  Hubby's favourite is the Steak & Kidney. It is always cooked to order so do allow 20 minutes.  I usually will choose something fishy and I know that it usually has been locally caught and that day!  Their desserts are to die for too - a favourite is Sticky Toffee Pudding certainly for my sister in law.  Like the others it is worth booking early for weekends to avoid disappointment.  Call Tristan on 01239 810589
They say location is everything and it would be hard to beat the Flatrock Cafe Bistro in Gwbert.  The Flatrock overlooks the Teifi Estuary and Poppit Sands.  It boasts a fabulous sun deck so it is great for lunchtime or watch the sun set in the evening - providing its dry!  ever hopeful.  They do great steaks and I know when we went with the in laws they really enjoyed the duck!  To book call 01239 612638