What's on in and around Cambridge 18th-20th of September
- Keep watching this blog for updates during the week -
Go Victorian at Audley End this weekend
This weekend the house will be overrun with people in character and costume to show you the experience of life in the Victorian era.  Tickets around £16 for adulats and £9.60 for children.  Call (01799) 522842 to find out more.
Cambridge Food Garden and Produce Festival in Parkers Piece this weekend 10am-5pm
There will be cookery classes available during the weekend
See this link for more information: http://www.oakleighfairs.co.uk/foodandgarden/
Ultimate Eagles - Fri 18 Sep at 7:30pm
Show celebrating the legacy of The Eagles
Cambridge Corn Exchange (Tickets £25)
www.cornex.co.uk
Richard Thompson - Sat 19th Sep at 7:30pm
Multi-talented British singer-songwriter
Cambridge Corn Exchange (Tickets £27.50) 
www.cornex.co.uk
Improver Level Belly Dance Classes - 10 week course
Classes take place Mondays 7:30 until 9:00pm at St Pauls, Cambridge, CB2 1JP from 21st September
Find out more... 
Some more ideas:
 - Find a pub to watch the rugby world cup!
 - Enjoy the last weekend of summer and go for a bike ride
 - Pop to the cinema
 - Visit a national trust park, such as Angelsey Abbey or Wimpole Estate 
---
Upcoming next week:
Cambridge B2B Exhibition at The Best Western Quy Mill Hotel - Thursday 26th September 10am - 4pm
thebestof Cambridge will be exhibiting so please come along to find out more about us!
---
Featured Business of the week: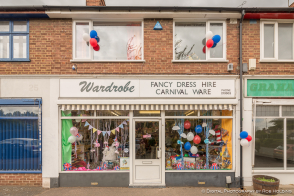 Located in Cromwell Road, near Mill Road, this fancy dress shop has been in Cambridge for many years, selling all sorts of party related items.  They even sell helium balloons!
Halloween is just around the corner, so start preparing and order your outfits now!  They have an offer at the moment for such an event, so check out their stock and take advantage of some great Fancy Dress!
---