The Dash button, now we can all live the life of Downton!
Do you run out of toothpaste and keep forgetting to buy a new one so have to squeeze the last dregs out of the tube by rolling it up?  Or, do you run out of your favourite coffee and then have to end up drinking something else?
Well, fear not. Amazon have come to the rescue with their new Dash Button.
A Dash button is a Wi-Fi-connected device that is sold by amazon that lets you reorder your favourite products, via Amazon Prime, so that you never run out again.
You would stick your toothpaste dash button in your bathroom cabinet and when you're running low, press the button and the new tube turns up the next day.  The buttons cost £4.99 to buy but you get this back as a credit when you press it for the first time.
Lots of companies have their own dash buttons now through Amazon including: Gillette, Olay, Nerf, Play Dough, Kleenex and Epson.
The new Amazon Dash button is like living in a modern version of Downton Abbey where the people upstairs would ring a particular bell to notify the people downstairs they wanted something doing!  The difference today being that instead of maids and cooks hurriedly rushing around downstairs, you have robots and humans hurriedly running around large factories collecting, packing and sending your item.
A wonderful sounding concept, but will it work in Cambridge…
Many villages in and around Cambridge have seen their Post Offices close in recent years with nothing to replace them.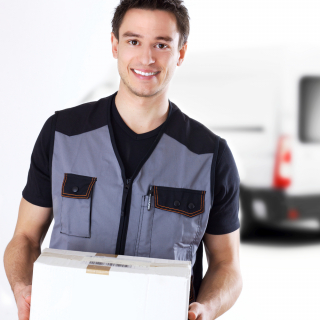 This often means that if orders are not delivered successfully (perhaps the owner is out) they are sent to the main collection depot which is close to Cambridge train station, not an easy place to travel to.  Sure, you can tick the "try delivering item again" on your mail slip that comes through the door, but then the concept of next day delivery is lost.
Until a solution is found, I don't believe this new convenient way to re-order individual products will work very well.
And there's more…
Not trying to be a party pooper, but I do see some interesting scenarios involving children and guests, especially if the Dash button for ordering new toilet paper is used.  It's a big shiny button that will be very attractive to press when sitting in a toilet with not much else to do!-)  I realize Amazon have created a safeguard to this with all orders being displayed in the app and no new order is made automatically until the previous one has been delivered.  I can imagine Andrex toilet paper being one of the top items ordered!-)
Do we need it?
I also have to question the need for single item buttons?  I do see the usefulness for the convenience of certain items, but I also enjoy having the option to try different products rather than just using the same one.
However, I do like the concept and see it being the start of similar gadgets in the near future.  Perhaps one button for a collection of items would be nice.  I don't think Amazon currently have the supply chain in place for making this happen (food included), but I guess one day either they or a competitor will.
They might potentially monitor the frequency of your purchases to know when to send you reminders about re-ordering.
This is a stepping stone to complete automation
Food shopping websites are already making advancements in these areas and complete automation is not that far away.  I think the Amazon Dash buttons are a stepping stone gadget towards complete automation. 
By clicking the buttons, Amazon can collect the information it needs to be able to calculate your average ordering frequency of each product.  From this data collected, they could offer you the option to abandon the button for complete autonomy because they would know when and how often you ordered that particular product.  How about that for even more convenience!  As long as you are in to receive the order :-)
You can find out more here: ttps://www.youtube.com/watch?v=EHMXXOB6qPA
If you could choose any product to have its own dash button, what would it be?
---
Image shared from Sarah at entrepreneurscircle.org
You might be also interested in:
Back to school and work, but don't forget work life balance!
Our local shops - love them or lose them!