Our local shops - love them or lose them!
There are lots of local independent shops, café's, pubs and restaurants in Cambridge, it's one of the defining things that makes Cambridge the city it is.  Along with the historical university buildings, the plethora of cycles and punts, Cambridge is a world tourist location.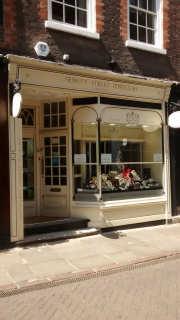 Are things too good to be true?
There just might be a problem that lurks underneath.  The existence of these local shops relies not so much on tourists but on local people.  Many of the stores sell bespoke tailored and specialised products and services which are not usually on the wish list of passing tourists.  If there is a decline in the level of local people it is generally these stores that are first to suffer.  The larger chains have bigger budgets and other stores around the country to offset these sorts of problems.
Speaking to many local store owners seems to back this observation up.  Many have noticed a decline this year of local people coming into the city.  It is unclear whether that is linked to the recent price increases to local bus services such as the park and ride service, which has recently gone up to £4!
The increase in the volume of traffic into the centre could also be a factor in the declining visitors.  Some people hold off visiting during the summer months due to the influx of tourists and summer international school students.
With all the new housing developments going on around the city, the volume of traffic is set to increase by a considerable margin over the next 5-10 years, but there doesn't seem to be the same level of urgency to improve transportation in and out of the city.  We need better and more affordable public transport alternatives and improved cycle routes to and from the outlining villages.  We need to make it more attractive and easier to come in and out of the centre.
Small business owners are also feeling the pinch when it comes to rents, the additional forced payments to Cambridge BID, which have some shop owners wondering what it is they are actually doing for them!
We need to protect the little shop
There are so many great and wonderful local stores in the city which we need to protect and shout about.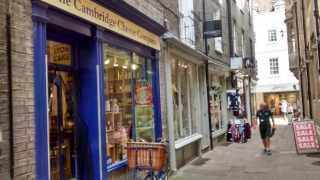 When you're next out and about in Cambridge take a wander down one of the little streets and side streets, whether that be Bridge Street, Green Street (Modish Shoes) or even All Saints passage where you will find The Cambridge Cheese Shop which sells amongst cheese, wonderful pork pies and large scotch eggs! Next door you can find a fabulous lingerie shop and two doors down from that a highly specialised tailors.  Now that's the real diverse Cambridge!
Happy wandering!