Kyung is a local sauce maker for Asado sauce and she is making sauces inspired by childhood flavour memories of Argentina, Korea and California. Asado produce each sauce in small batches according to the family recipe.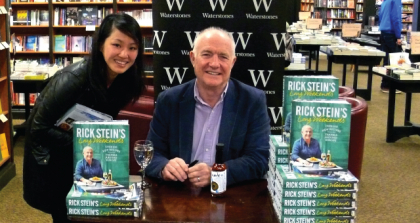 As Kyung explains "Our 1st collection is a herby Chimichurri sauce inspired by my childhood flavours while growing up in Argentina.  The Asado Chimichurri Sauce is not your common oil based sauce, but a vinegar herby sauce with a hint of chili. You can use it as a condiment by applying the sauce directly on top of Steaks, Fish & Chips, Hamburgers, Hot Dogs, Pizza, Rice Pilaf or anything you fancy. We tried it on veggie tempura the other night and it absolutely transformed the dish into a herby, smoky & robust tempura, much loved by our family and friends. It's very versatile to use, easy to pour, flavourful, and low in sugar!"
As an introduction, we have added a healthy vegetarian turmeric rice pilaf recipe we invite you to try. It's a simple recipe with stir fried courgettes & vegetables on a bed of turmeric rice and drizzled with Asado Chimichurri Sauce.
Vegetarian Pilaf w/ Chimichurri Sauce . Recipe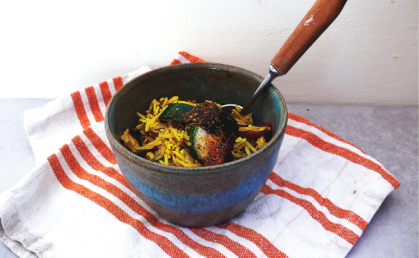 This vegetarian pilaf is a much requested recipe among our tasters and we hope that you'll enjoy this dish as much as we have with friends and family.
Vegetables, stir friy
1 tbs Olive oil
1 Courgette, cut in half and 1″ chunks
1 Red Onion, cut into large chunks / 1″ cubes
1 Bell Pepper, cut into large chunks / 1″ cubes
---
1. Heat the pan.
2. Add oil when the pan is hot.
3. Quickly add the vegetables & cook until medium-soft. (approx. 5 minutes)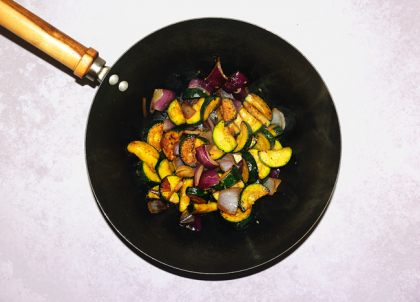 ---
Tumeric Rice
2 cups of Basmati Rice
4 cups Water
1 tbs Olive Oil
2 tbs + of Currants / Raisins (optional)
1 tsp Turmeric Powder
---
1. Wash Basmati Rice until water is clear (3 to 4 times).
2. In a pot, add the rice + water until it comes approx. 1cm above the rice – total of 4 cups.
3. Add Olive Oil + dried currants / raisins (optional) + Turmeric Powder (optional) = Mix
4. Cover the pot and gently cook the rice on low heat for 15 minutes.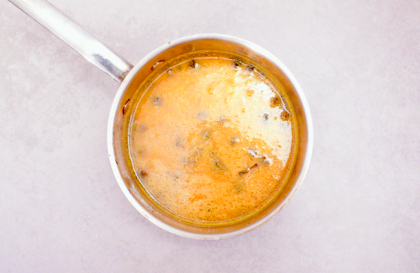 ---
Assembly
1. Mix the stir fried vegetables w/ Tumeric Rice & drizzle Asado Chimichurri Sauce on top!
Enjoy!
Looking forward to hearing from you! 
Kyung