I have always been a bit sceptical when it comes to chain restaurants, especially when they try to take on the cuisine of possibly the finest in the world.  However, I have to say that my experience of Café Rouge rather left me with a smile than a disappointing frown!
My experience was shared with a colleague in late October and it was nice to see moules on the menu, shellfish that are commonly eaten in France and Benelux in months ending with an 'r'.  So it was only fitting that I started with them.
---
Starter (Petits Plats)
Waitress's favourite: Tempura Moules
Our choice:
Croquettes de Canard £6
Duck croquettes, pea shoots and frisee with orange + chilli marmalade
Generously filled with duck and potato filling and the marmalade was a nice companion to the dish.  Good portion size too.
Tempura Moules £6
Crisp mussels with smoked garlic & lemon aioli
I opted for the waitress's favourite.  The mussels arrived in a basket on a salad leaf.  They were tasty when combined with the mayo and the batter was not too thick or greasy.  I probably wouldn't choose this starter if I was following it with another battered or fried type of meal (such as a burger, which is apparently the most popular main course).
Main course (Plats Chauds)
Waitress's favourite: Confit de Canard
Our choice:
Seabass 'en papillote' £15
Butterfly filleted seabass steamed and served in parchments with leeks, piperade and a lobster & dill butter
Fish was very well cooked and no bones were found (which is good for seabass!). Nice mix of leeks, pepper and onion.  Presentation could be improved by not actually having the meal served in parchment as it becomes messy removing it and a finger bowl was required.
A side order of New Potatoes was ordered to accompany the fish.  However, these arrived as chopped and fried, not whole new potatoes as the menu suggests.
Boeuf Bourguignon £15
slow-cooked beef in red wine with smoked bacon, mushrooms, baby onions, green beans, carrots and herb mash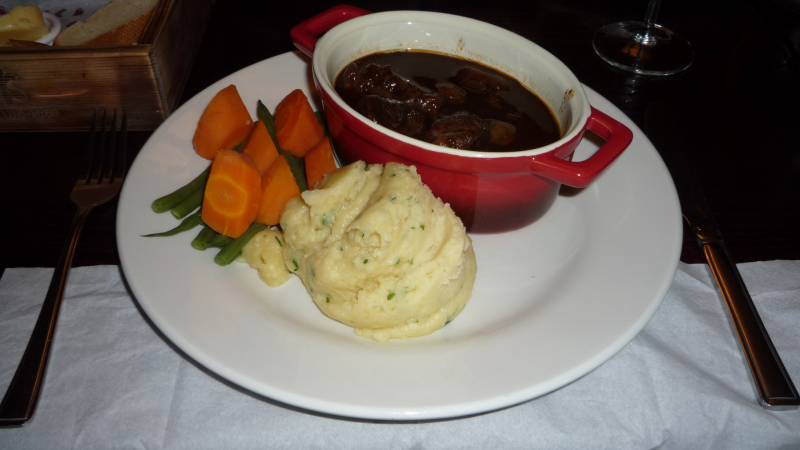 Boeuf Bourguignon, a French beef stew was very good indeed.  Temperature of the meal when served was very good, but the tenderness of the meat and flavour of the sauce was even better!  It is safe to say I enjoyed it very much.
Dessert
Waitress's favourite: Fondant Aux Chocolats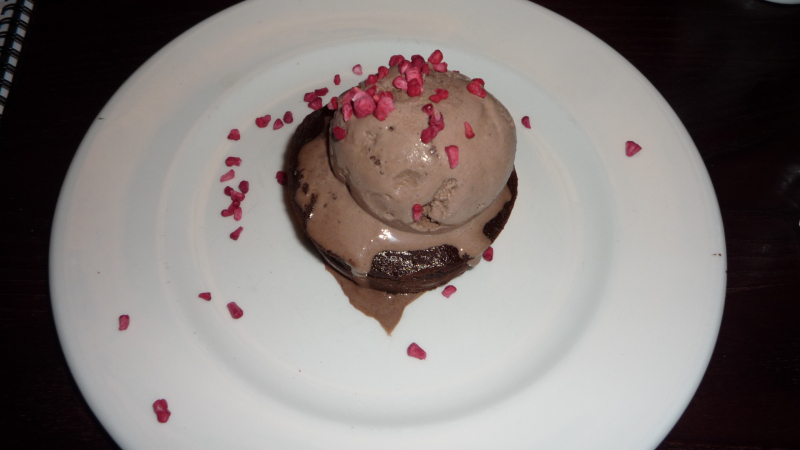 Our choice:
Café Gourmand £4.50
Coffee of choice served with a small serving of one of three types of cake
Definitely worth considering if you are feeling rather full, but would still like to finish your meal off with something sweet.  Considering it was a small serving, the slice of tart that accompanied the coffee was a good size.
Fondant Aux Chocolats £6
hot chocolate fondant with a melting chocolate centre and chocolate & raspberry fondant ice cream
If you still have room for such a delicacy and you like very sweet things, then this is definitely for you.  This dessert would be a lovely standalone option with an afternoon coffee!
A very rich pudding, nice in texture and flavour, but following two courses I would have been ok with a smaller portion.
Drinks
CARAFE OF WATER (free) – A nice touch and worth having at your table.
CITRON PRESSÉ (£2.50) - a concentrated lemon drink served in a tall glass with ice and extra water on the side.  It's a very refreshing drink that's a great accompaniment to a meal or as a non-alcoholic alternative to the French favourite, pernod.
CUVÉE LA MAISON ROUGE (£4.50, £5.85, £15.95) – The house red (Languedoc-Roussillon) was actually very nice, smooth and tasted good with the beef.  If you aren't a real wine expert, go with the house choice, it is worth it here.
AMERICANO (£2.30) – Not much to comment on, was an ok coffee.
Conclusions
+ Very friendly staff and speedy service
+ Clean toilets, although more signage to find them wouldn't go a miss and more regular checks on soap levels
+ Nice décor and plenty of tables to seat guests
+ Large area upstairs for parties and private functions
+ Generous portions
+ Great tasting food and drink with a good varied menu
+ Good website with online menus!
If I was to offer an improvement or suggestion, I would like to see more 2 and 3 course menu suggestions at weekends.  It gives people the chance to try something different they probably wouldn't try elsewhere.  Plus, portion sizes can be better controlled.
Overall, I enjoyed the whole experience and would definitely eat at Café Rouge again.  Perhaps next time I try the canard, or maybe the steak frites, or settle with a burger….
---
If you would like to find out more about Café Rouge in Cambridge, check out their website at: http://www.caferouge.com/locations/cambridge/main-menu
Something I really like is how you can browse their menus online (This link is for café rouge national and not just for Cambridge so there might be one or two differences): http://www.caferouge.com/menus
---
ADDRESS
24-26 Bridge St
Cambridge
South East
CB2 1UJ

01223 364961
OPENING HOURS
Mon - Fri: 9.00am - 11.00pm
Sun: 9.00am - 10.30pm
Sat - Sat: 8.00am - 11.00pm
FREE WIFI
FACILITIES
Outside seats

Private room

Braille menu

Large print menu

Free WiFi
---