Best Pubs in Cambridge to watch the Euros
UEFA EURO 2016 10 JUNE - 10 JULY
The championship is almost upon us and the atmosphere is starting to build.  The football songs are starting to get played (La Foule, The Three Lions (the original version), Vindaloo and New Order World in Motion, being some of the best) and the press forever building ridiculous expectations once again!
However, finding a good place to watch it can be quite difficult, especially in a historic university city as Cambridge!  So to help you out, we have listed some of the best pubs in Cambridge to watch the Euro Championships this summer.
---
New Entry
The Rock
200 Cherry Hinton Road, CB1 7AW 
They have BT Sport, Sky Sports and of course the EUROS.  Also have a good selection of traditional pub food. More info found at: http://www.rock-cambridge.co.uk/
---
Lion & Lamb (The three lions)
High St, Milton, Cambridge CB24 6DF
Carlsberg nominated pub - 1 of only 19 supported pubs across the UK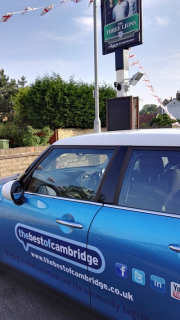 ---
Cambridge Brewhouse
1 King St, Cambridge CB1 1LH
They brew their own beer and have a large screen upstairs in a spacious setting.  Also serve food.  What's more not to like!
---
The Regal Wetherspoons
38-39 St Andrew's St, Cambridge, Cambridgeshire CB2 3AR
Good value drink + food.  Lots of choice.  Large area to get a view.  Large screen + smaller screens dotted about.
Should be good to watch footy and has been good in the past for lively atmosphere.
---
The Grain & Hop Store 
69-76 Regent St, Cambridge CB2 1AA
Spacious interior as was old factory building.  Large screen and smaller screens dotted about.  Could be a good one for watching the matches.  Apparently they will be showing the England games on the big projector downstairs and all other matches on the upper level on the tv screens dotted about. 
---
Sir Isaac Newton
84 Castle St, Cambridge CB3 0AJ
A number of tv screens dotted about.  Can be a little tight for a good view, but atmosphere can be good.  Popular with students, but since uni semester over by mid June, might have more room!
---
The Golden Hind
355 Milton Rd, Cambridge CB4 1SP
Spacious pub with a number of screens dotted around the pub so you should be able to find a good view of the football.  They also do food at a reasonable price too.  Look out for special offers during the Euros.
---
The King Street Run
86 King St, Cambridge CB1 1LN
Friendly pub with wallpapered ceilings!-)  Big screens for watching the football.  Also a games room with pool tables if the matches start getting rather boring or too tense!
---
The Portland Arms
129 Chesterton Rd, Cambridge CB4 3BA
Large pub with TV screens dotted about.  Pool tables too.  Real Ale pub serving food. Also has a courtyard garden and a 200 capacity live music venue.
---
The Dobblers Inn
184 Sturton St, Cambridge CB1 2QF
A basic pub with little pretense, HD screens for watching the footy while drinking a pint.  A little out of the way and apparently does a good pub quiz!
---
The White Swan
109 Mill Rd, City Centre, Cambridge CB1 2AZ
Irish bar with 5 TV screens.  Focuses mostly on rugby, but the Euro matches will be shown!  Apparently don't accept card payment, but there is a cash machine across the road.  Food according to customers is reasonably priced and good value.
---
Do you have a recommendation of your own?
If you know of a great place to watch the Euro's this summer, we would love to hear from you.  Please get in touch at cambridge@thebestof.co.uk
---
Why not join in the fun and create your perfect team formation and strategy at the following website: http://www.coachwiseman.uk - Draw, take a screen capture and share on social media!
---