Celebrate Songkran
12th April 2017
... Comments
---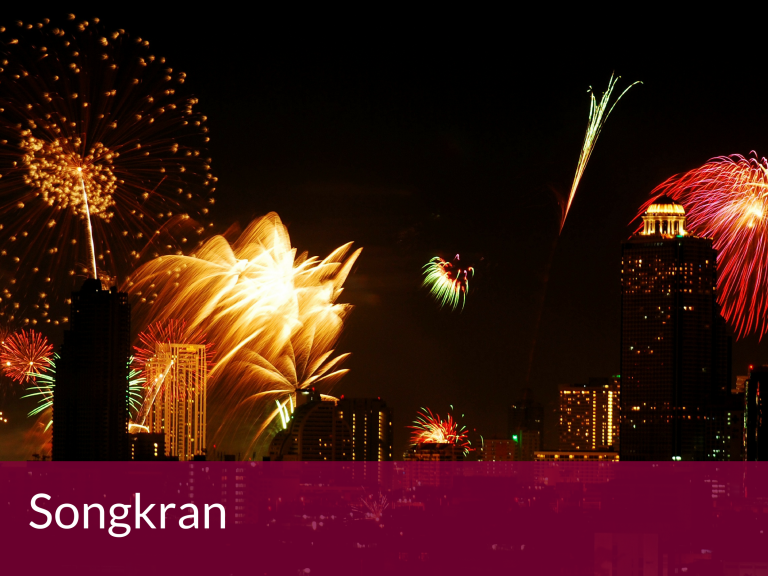 All around the world, you'll find plenty of different ways that people celebrate the new year of their calendar. While most people will be familiar with the dragon imagery of Chinese New Year, you might be less familiar with Songkran the Thai version of this festival. Luckily, this article will teach you a little more about it!
The first thing you should know about Songkran is that, unlike other new year celebrations, it is spread across three days, so as to give everyone a chance to join in the celebrations regardless of their work schedule. While it has been largely adopted by the people of Thailand, the origins of Songkran actually lie in Burma. The countries surrounding Thailand, including Vietnam and Laos, all also have similar new year's festivities, meaning that it's a time when everyone can come together and celebrate their shared culture together. The name of the festival comes from the word "Sankrati", which means "to change"- reflecting the fact that the festival is celebrated on different dates each year. In 2016, it falls between the 13th and the 15th of April.
Like many other countries, the people of Thailand have their own particular new year's superstitions and customs. Housewives must completely clean their home before the new year, or else any leftover rubbish is said to bring bad luck. In particular, images of Buddha are cleaned with extra care in order to bring more luck.
But the most noteworthy of all Songkran customs is the huge water fight which takes place throughout the streets of towns and cities across Thailand. Adults and children alike will arm themselves with anything they can get their hands on, and soak passers by. This is said to symbolize cleansing and rejuvenation, but everyone can agree that it's also a lot of fun!
As you can see then, Songkran is a time rich in Thai culture and tradition. However, there aren't really any particular dishes associated with the festivities- so feel free to tuck in to whatever you prefer in order to join in yourself!