Three Cheers For Care Home's Youngest Volunteer
Residents and staff at Tyspane Care Centre in Braunton, Devon are celebrating their youngest volunteer. At only 13, Anais Davie has been a young volunteer at Tyspane care centre from a young age, joining in with residents during events and helping out at the home at weekends.
Inspired by the dedication of the staff at the centre, Anais has plans to become a Physiotherapist when she gets older. "If it wasn't for my Nan, her best friend and long-time volunteer Josie as well as Babs - Tyspane Physio, I wouldn't have been able to experience the journey which is caring for people. I think it is extremely important for young people not to be afraid to sit down and have a chat with the elderly people. It made me realised that they have the same need as I do. I have always loved listening to the many war - time stories and my English has improved!"  A natural philanthropist, Anais has designed and baked a giant cake for Tyspane Summer Fete, June 9th.
Jennifer Hodges, General Manager at Tyspane Care Centre said: "Our care centre is like a family and Anais is a part of that family, loved and valued by everyone. She has been coming with her Nan Josie to the home since she was six months old. It takes a special kind of person to give up so much of their time to help others and we are lucky to have such a fantastic volunteer. We're always looking for volunteers at the home young or old. Anais definitely keeps everyone here at Tyspane, young at heart!"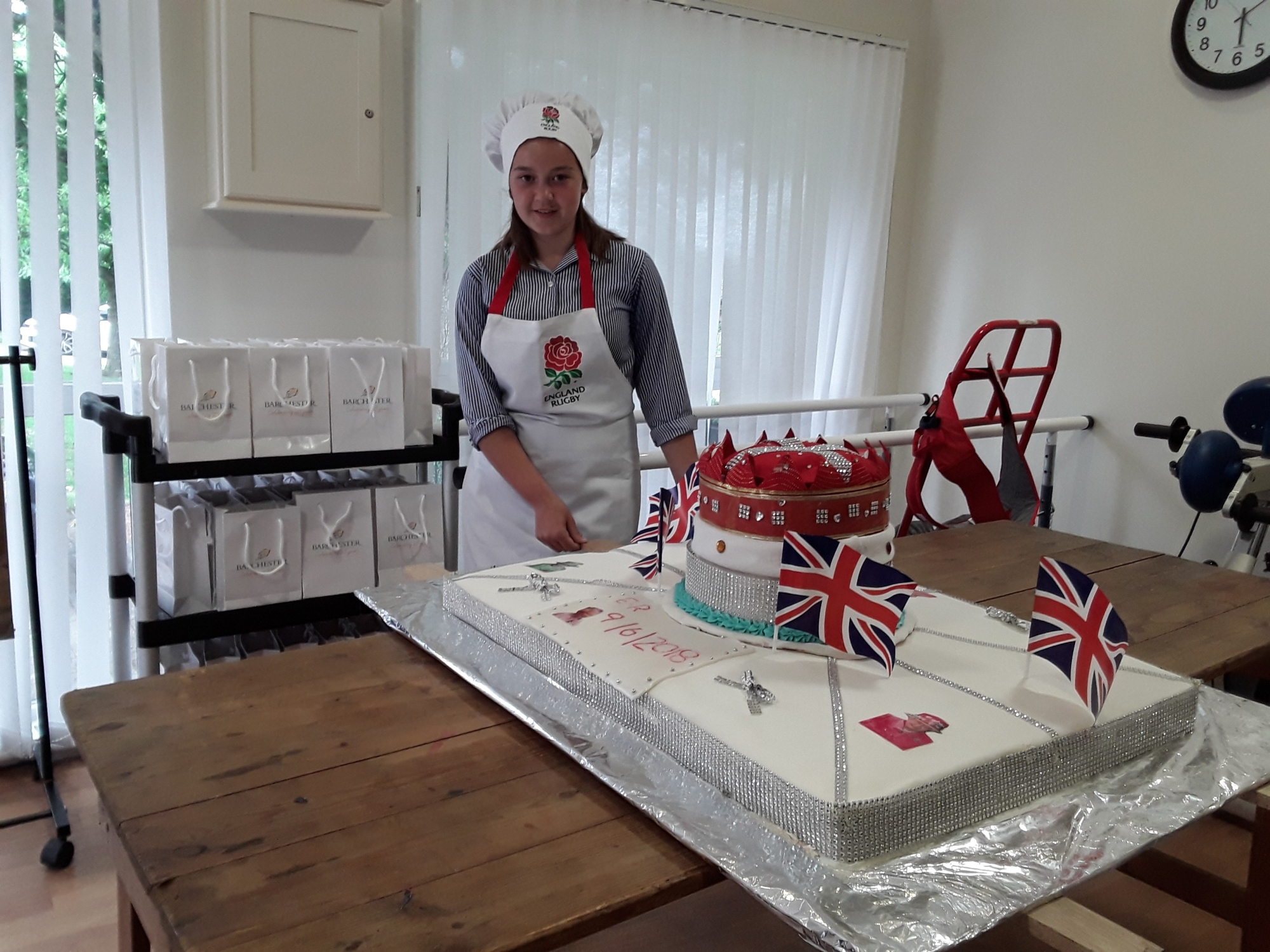 To make this 28 kg (4.5 stones); 2 ft. by 3 ft.  Victoria sponge cake in honour of the queen's birthday, Anais baked 19 sponge cakes; used 57 eggs; 4 pounds of butter, 4 kg of fondant and 4 kg of icing sugar, 1.5 kg of fresh strawberries. It took Anais and her volunteers 30 hours to design the crown, bake the sponge cakes and decorate it.
"After all this work, it nearly went badly wrong when we transported the cake to Tyspane. " Anais said, "we were all done and suddenly we realized that the cake wouldn't' fit through the door!! The only way to get the cake out was to tilt it.  I was terrified. One wrong move and the cake would have collapsed. Luckily we managed and I nearly cried in relief!"
What an achievement from a 13 year old girl!  The money raised will go to Tyspane residents' fund. 
---
Tyspane Care Centre is run by Barchester Healthcare, one of the UK's largest care providers, which is committed to delivering high-quality care across its care homes and hospitals. Tandridge Heights provides residential care and nursing care for 65 residents for short breaks to long term stays.
Barchester Healthcare is one of the UK's largest care providers supporting older people living independent lives with dignity and respect. Providing a wide range of services for a variety of needs, Barchester Healthcare support 11,000 residents across 200 homes for short breaks to long term stays.
A leading care provider over the last 25 years, Barchester services include residential care and nursing care tailored to suit you.