LOCAL CARE HOME RESIDENTS CELEBRATE 60 YEARS TOGETHER!
A couple from Tyspane care home, in Braunton have celebrated 60 years of marriage.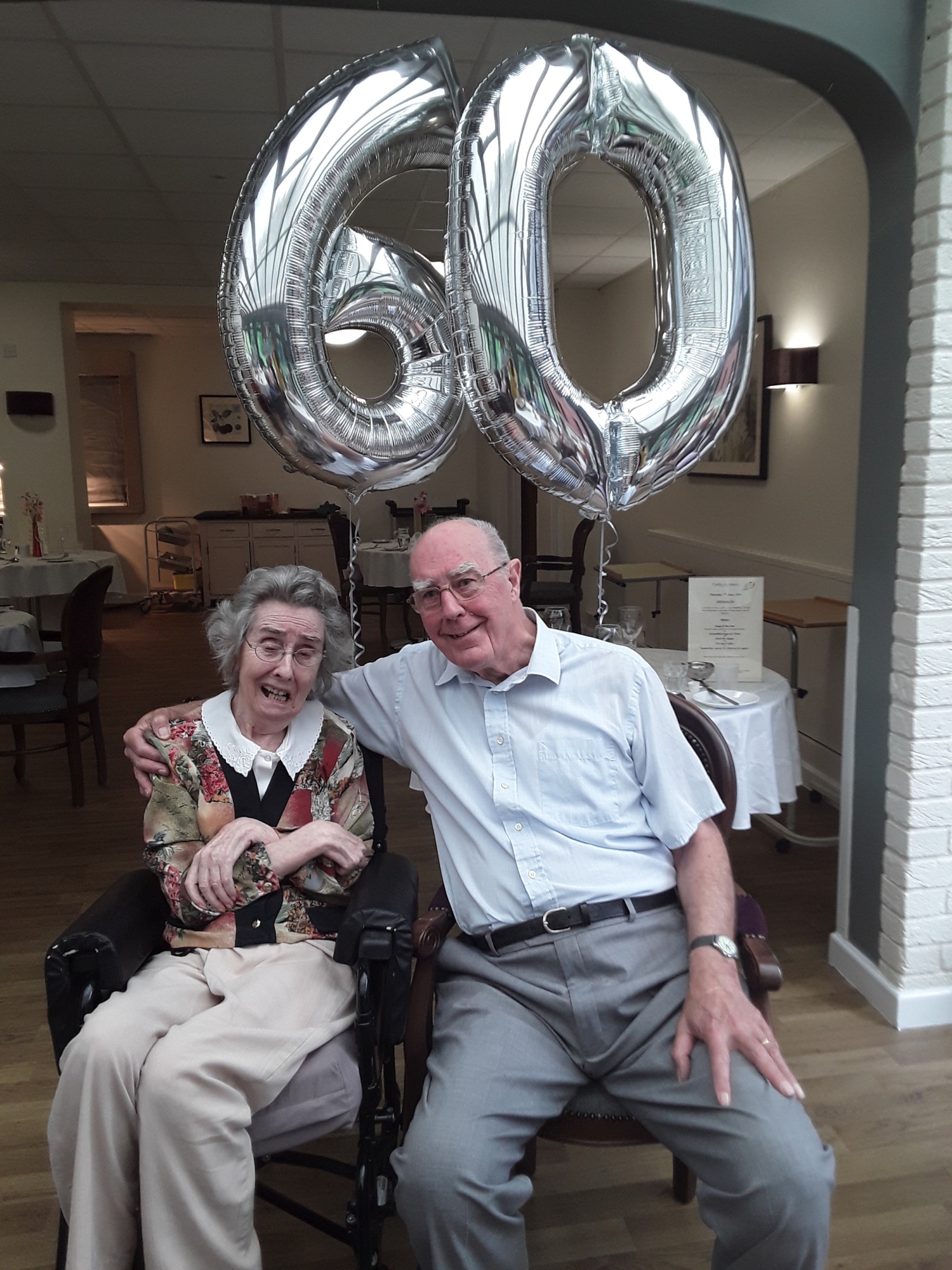 David and Joy Fry first met at Saunton beach, Devon in 1958 and it was love at the first sight.
"I was with my mate on the beach" David began to recall with a cheeky smile, "and I saw these two ladies walking towards us. Oh!  I thought they looked really nice," he laughed, "so I hid my watch in my pocket, walked to them and asked if they had the time!" After spending time with them that day, David offered Joy a ride on his motorbike but as he dropped her off, she burned the back of her leg on the exhaust pipe. "Oh dear, she still has the mark, but the worse part if that we had to face up to her mother!"
Family and friends came to Tyspane to celebrate the couple's special anniversary with staff and residents. There was champagne, flowers, banners, cards, tea and coffee. The family brought a beautiful cake and a framed copy of a congratulation message from the Queen! Odds Ends choir who happened to be visiting the home that afternoon, surprised the couple by singing "You are my sunshine." It was very emotional for all.
General Manager, Jennifer Hodges at Tyspane said: "We have had such a lovely day celebrating Joy and David's anniversary. It's so wonderful to see two people still very much in love after all these years! "
Tyspane care home is run by Barchester Healthcare, one of the UK's largest care providers, which is committed to delivering personalised care across its care homes and hospitals. Tyspane provides residential care, nursing care for 55 residents from respite care to long term stays.
---
At Barchester, we celebrate life and make sure the people we support do too. We do this by treating everyone as individuals, and always tailoring our services and support to meet their needs, which vary person to person. To find out more about Barchester or to find your closest care home, please visit our website www.Barchester.com.