Historic Gothic Barnstaple Chapel becomes St Anne's Arts and Community Centre.
22nd November 2012
... Comments
---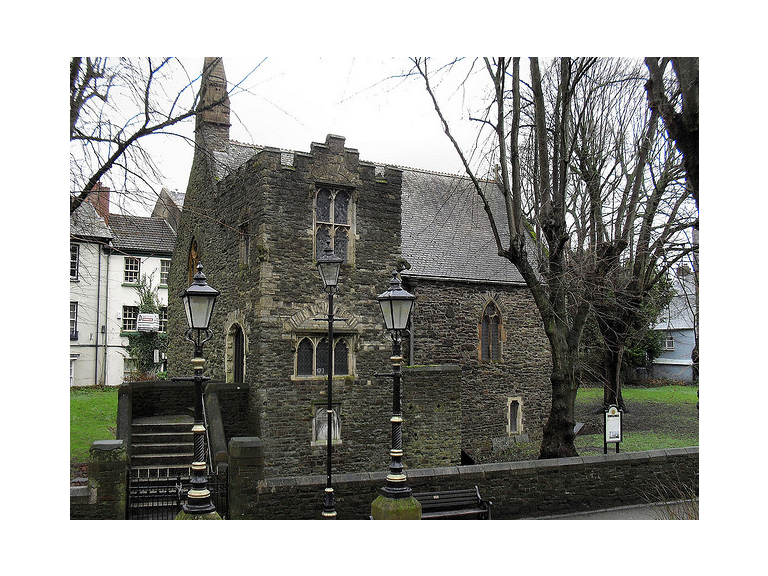 Have you been to St Anne's Chapel yet? Sitting in a green, pedestrianized oasis of Paternoster Row in the very heart of Barnstaple  this historic, Gothic building in miniature, is now a new Arts and Community centre for the town.
Come in, take a seat and let the centuries fall away; this is a place to reflect, be inspired and create. Recently Ed Crumpton, resident artist during the buildings renovation, presented his finished etching to the Mayor, Cllr Lesley Brown (picture attached).
The picture will hang above the fireplace in the main chamber. Ed's residency was the start of an exciting artistic events programme at the centre. Just some of the many activities happening at St Anne's:
North Devon Arts are currently exhibiting work from a number of their members until 24th November.

A new club for secret crafters starts with a couple of dates to test the water before Christmas – 29th November at 5.30pm. For people who love to make things and want to share their ideas. Do you stitch, print, etch, weave, felt or snap at home but want a place to be inspired and learn new techniques? Then this is the club for you, £2 to cover the tea and homemade cake! 

St Annes Manager, Dion Sears, is  thrilled that Colin Shaddick, Eccentric Club Events Coordinator in Devon, will be renewing his partnership with St Anne's to revive First Friday Music @ St Anne's. An open mic night in exclusive surroundings, he welcomes all music styles but particularly blues, jazz, folk, country and bluegrass. Friday 4th January at 7.30pm will be at the perfect start to the New Year. It's an affordable night out as entrance is free and the bar is 'bring your own'. Interested musicians can contact Colin via the St Anne's Facebook page.

Colin will also be eccentrically starting a Ukulele Club on 16 Jan at 7.30pm – all players welcome. 

As a beautiful historic building St Anne's will not be forgetting its rollercoaster ride through history. A new History Educators Network starts with a free workshop on 11 December at 4pm and Barnstaple History Group will meet on 8 December at 2.30pm – everyone welcome.

We want to document the stories and voices of the building for all to hear, would you like to join the volunteers at their oral history workshop? It's on 13 December at 10am and is free to take part. You would learn how to use the equipment, interview and upload to the internet. Creating an oral story of the building and its renovation.
Many more events and activities are in the pipeline, all can be viewed on the Town Council website or stay up to date by the second by following St Annes on Twitter. If you have an idea for an event or would like to hire the space , which has a capacity of 60, please get in touch with the Manager, Dion Sears. They are always looking for new volunteers to get involved with projects either heritage or arts; it's a friendly and active team to join.
Address: St. Anne's Chapel Paternoster Row Barnstaple EX31 1BH
Call: 01271 373311 / 07557 014397
Email: stannes@barnstapletowncouncil.co.uk