Christmas Fayre Meal at Holiday Inn, Walsall
20 Wolverhampton Road West
Bentley
Walsall
WS2 0BS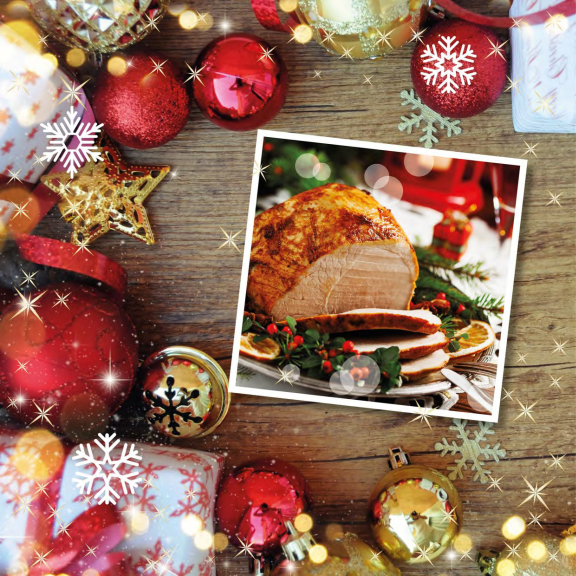 Enjoy a leisurely meal in festive surroundings at Holiday Inn in Walsall. The ideal way to share the Christmas celebrations with colleagues, family or friends.
Choose from a range of delicious starters, mains and desserts from Holiday Inn Walsall's Christmas Fayre menu. Perfect for a work do or a special meal with friends or family, join Holiday Inn this festive season.
CLICK HERE TO SEE HOLIDAY INN WALSALL'S FULL CHRISTMAS BROCHURE AND CHRISTMAS FAYRE MEAL MENU.
Available Monday to Saturday throughout November and December (excludes Monday 25th December).
Call Holiday Inn Walsall's Co-ordinator now on 01922 618 800 (option 2) or email sales.hiwalsall@kewgreen.co.uk to book
Future dates
Monday 20th November 12:00pm until 2:30pm
Monday 20th November 6:30pm until 9:30pm
Tuesday 21st November 12:00pm until 2:30pm
Tuesday 21st November 6:30pm until 9:30pm
Wednesday 22nd November 12:00pm until 2:30pm
Wednesday 22nd November 6:30pm until 9:30pm
Thursday 23rd November 12:00pm until 2:30pm
Thursday 23rd November 6:30pm until 9:30pm
Friday 24th November 12:00pm until 2:30pm
Friday 24th November 6:30pm until 9:30pm
Saturday 25th November 12:00pm until 2:30pm
Saturday 25th November 6:30pm until 9:30pm
Monday 27th November 12:00pm until 2:30pm
Monday 27th November 6:30pm until 9:30pm
Tuesday 28th November 12:00pm until 2:30pm
Tuesday 28th November 6:30pm until 9:30pm
Wednesday 29th November 12:00pm until 2:30pm
Wednesday 29th November 6:30pm until 9:30pm
Thursday 30th November 12:00pm until 2:30pm
Thursday 30th November 6:30pm until 9:30pm
Friday 1st December 12:00pm until 2:30pm
Friday 1st December 6:30pm until 9:30pm
Saturday 2nd December 12:00pm until 2:30pm
Saturday 2nd December 6:30pm until 9:30pm
Monday 4th December 12:00pm until 2:30pm
Monday 4th December 6:30pm until 9:30pm
Tuesday 5th December 12:00pm until 2:30pm
Tuesday 5th December 6:30pm until 9:30pm
Wednesday 6th December 12:00pm until 2:30pm
Wednesday 6th December 6:30pm until 9:30pm
Thursday 7th December 12:00pm until 2:30pm
Thursday 7th December 6:30pm until 9:30pm
Friday 8th December 12:00pm until 2:30pm
Friday 8th December 6:30pm until 9:30pm
Saturday 9th December 12:00pm until 2:30pm
Saturday 9th December 6:30pm until 9:30pm
Monday 11th December 12:00pm until 2:30pm
Monday 11th December 6:30pm until 9:30pm
Tuesday 12th December 12:00pm until 2:30pm
Tuesday 12th December 6:30pm until 9:30pm
Wednesday 13th December 12:00pm until 2:30pm
Wednesday 13th December 6:30pm until 9:30pm
Thursday 14th December 12:00pm until 2:30pm
Thursday 14th December 6:30pm until 9:30pm
Friday 15th December 12:00pm until 2:30pm
Friday 15th December 6:30pm until 9:30pm
Saturday 16th December 12:00pm until 2:30pm
Saturday 16th December 6:30pm until 9:30pm
Monday 18th December 12:00pm until 2:30pm
Monday 18th December 6:30pm until 9:30pm
Tuesday 19th December 12:00pm until 2:30pm
Tuesday 19th December 6:30pm until 9:30pm
Wednesday 20th December 12:00pm until 2:30pm
Wednesday 20th December 6:30pm until 9:30pm
Thursday 21st December 12:00pm until 2:30pm
Thursday 21st December 6:30pm until 9:30pm
Friday 22nd December 12:00pm until 2:30pm
Friday 22nd December 6:30pm until 9:30pm
Saturday 23rd December 12:00pm until 2:30pm
Saturday 23rd December 6:30pm until 9:30pm
Monday 25th December 6:30pm until 9:30pm
Tuesday 26th December 12:00pm until 2:30pm
Tuesday 26th December 6:30pm until 9:30pm
Wednesday 27th December 12:00pm until 2:30pm
Wednesday 27th December 6:30pm until 9:30pm
Thursday 28th December 12:00pm until 2:30pm
Thursday 28th December 6:30pm until 9:30pm
Friday 29th December 12:00pm until 2:30pm
Friday 29th December 6:30pm until 9:30pm
Saturday 30th December 12:00pm until 2:30pm
Saturday 30th December 6:30pm until 9:30pm