Young Programmers deliver a line-up of live music at Shropshire event
27th June 2022
... Comments
---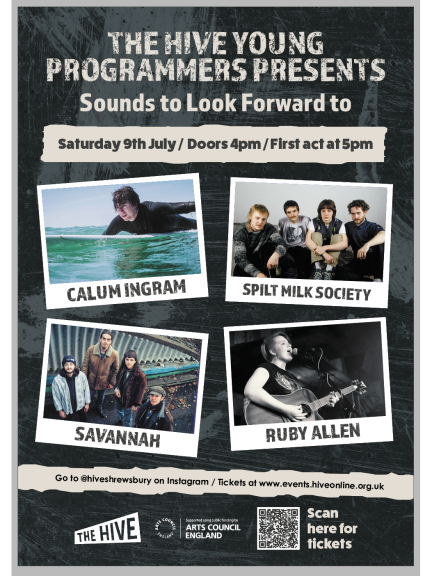 A creative project for young people aged 14 – 25 looking to pursue a career in the music industry, will culminate in a multi-act event in Shropshire on Saturday 9th July. 
In the past 15 months participants of 'The Hive Young Programmers' project, run by The Hive Arts Charity in Shrewsbury and funded by Arts Council England, have been engaging in a series of workshops, masterclasses and shadowing opportunities led by experienced music industry professionals.   
On the 9th of July 2022 they will put their newly acquired skills in sound engineering, artistic programming, PR and marketing into practice to stage an evening of music at The Hive. The event has been dubbed 'Sounds to Look Forward To' in recognition of live music events returning after a difficult two years of restrictions, and will feature performances by phenomenal cellist Calum Ingram, indie band Spilt Milk Society, Midlands based Brit-rock band Savannah and local singer-songwriter Ruby Allen. There will also be relaxed DJ sets by DJ Buzzword in between performances and catering by various local food vendors. 
Project participant Fyfe Irwin, said the event will be an exciting opportunity to bring new music to his peers and hopes it will pave the way for future projects; "We're a group of young people passionate about bringing live music to people our age in a safe and engaging environment. We hope to sell as many tickets as possible so we have the financial backing to programme a second season of shows, and bring an even wider range of musicians to Shropshire. I can't wait to see the outcome of the effort we've put in" 
For more information on the upcoming event and to purchase tickets, please visit www.hiveonline.org.uk or call The Hive box office on 01743 234970. This post has been created, generated, scheduled and shared by the participants of The Hive's Young Programmers project. If you would like to know more please email admin@hiveonline.org.uk