Valentine's Day treat as popular Shrewsbury restaurant celebrates 11th birthday
One of the most popular restaurant meeting places in Shrewsbury is celebrating its 11th birthday next month when it will have a special treat for Valentine's Day customers.
For those who Love Coffee
Love Coffee at Salop Leisure's Emstrey headquarters has grown from two members of staff when it first opened to today employing a team of 22 full and part-time staff aged between 16 years and late 50s.
Located alongside Shrewsbury bypass at the gateway to the town and Wales, Love Coffee regularly attracts more than 300 customers daily, including business people, groups of mums, pensioners and local residents.
With plenty of free parking space and easy access from the bypass, Love Coffee has become a prime meeting place and staff are always keen to celebrate special occasions.
Giving Cupid a helping hand
To give romance a helping hand on February 14, the restaurant will be providing a romantic red cherry hot chocolate with heart shaped shortbread biscuits for Valentine's Day.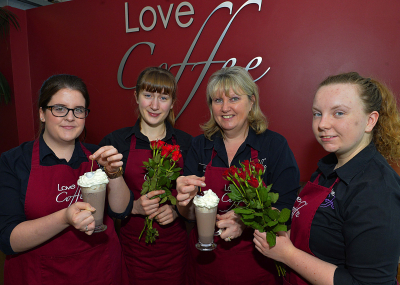 Pictured above: Preparing for Valentine's Day at Love Coffee are (from left) Katie Jones, Amy Lloyd, manager Sue Oliver and Molly Parry.
Treats for mums
The focus changes to mums on Mothering Sunday, March 26. Special afternoon tea will be served from 2pm to 4pm with mums receiving a complimentary rose.
From strength to strength
During the holiday season, the restaurant is always busy with visiting caravaners and motorhome and caravan owners who use it as a friendly watering hole on the journey to and from the Midlands to Mid Wales.
A woman who has watched Love Coffee and Salop Leisure flourish over the past decade is manager Sue Oliver. She joined the business from another town restaurant where she was a supervisor, having previously started her catering career with the county council.
"It was such a lovely time to come into the company and it has been a privilege to see both the restaurant and Salop Leisure grow," she said. "You don't get many chances like this in your career.
"It's the loyalty of our customers that has made the business what it is today. The clientele has increased tenfold over the years and we now attract a wide variety of customers, including businesspeople who find the location so convenient for meetings. Disabled people also like the restaurant because the tables are the perfect height for wheelchairs."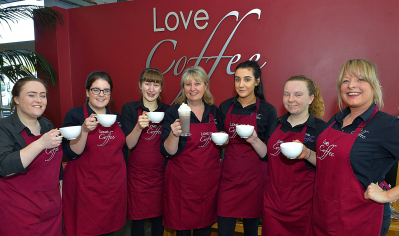 Pictured above: Celebrating the 11th birthday of Love Coffee are (from left) Ellen Bailiff, Katie Jones, Amy Lloyd, manager Sue Oliver, Beth Everist,  Molly Parry and Laura Davis.
Plans to expand
As trade has increased, so too has the menu choice, with healthy eating the most notable recent change. Smoothies are now common and staff are regularly asked for meals suitable for people with coeliac disease and food allergies.
The restaurant has become so successful that expansion plans are being considered. In addition, Sue, who has a degree from the Hotel Catering Institute of Management Association, will be overseeing the coffee shop and authentic Italian pizza ovens on the new £4 million Love2Stay touring and glamping resort, which is due to open at Easter on a site adjacent to Salop Leisure.