Top seed Sugnaux hoping to enjoy successful week in Shrewsbury
No 1 seed Tess Sugnaux knows she will need to be at her very best to stay on track for success at this week's $10,000 Aegon Pro-Series tournament at The Shrewsbury Club.
The 21-year-old from Switzerland was pleased to overcome the challenge of British player Louise Holtum 7-5, 6-1 in yesterday's opening match on Court 2 to set up a second round meeting with Francesca Wilkes, one of many Brits involved in the first round.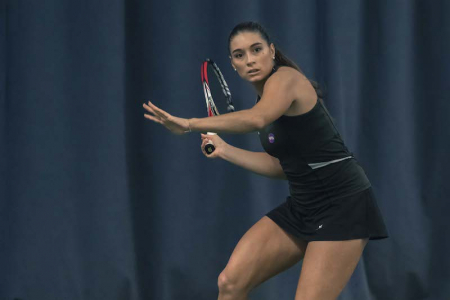 "There is always good players, but I will give my best and let's see how it goes," said Sugnaux, who is currently a career-best 445 in the world rankings and moving in the right direction.  
"It was the first round, so it was tough," said Sugnaux, of her first round clash which lasted just under 90 minutes. "New conditions and I did my job, but I have to improve a little bit. Last week I was in Sweden, now I'm here. I have new balls, new courts, so it's always tough."
This is Sugnaux's first visit to Shropshire and she's been impressed with what she's seen so far: "The club is really nice, many courts, and I just went into the town for the first time last night and it's really nice. I like it." 
It was a good day for the eight seeded players as they all progressed, with the exception of No 8 Lea Tholey as the French player was beaten by Brit Laura Salisbury 7-6, 7-5.
Elsewhere, Georgian Mariam Bolkvadze, the No 2 seed, beat Mollie Crouch 6-4, 6-1 while Belgian Helene Scholsen booked her place in the last 16 with a straight sets triumph over Manisha Foster. 
Petra Krejsova got the better of fellow Czech Republic player Natalie Kallmunzerova 6-4, 6-4 while fifth seed Ling Zhang, from Hong Kong, was taken to three sets by Brit Natasha Hillyer before winning the decider 6-0.
Experienced American Alexandra Stevenson, once a Wimbledon semi-finalist, delivered a strong display to knock out British youngster Ellie-Rose Griffiths, 17, 6-1, 6-0.
Highest ranked Brit Maia Lumsden accounted for Eden Silva in three sets while there was an impressive victory for Gloucestershire's Alicia Barnett, who recovered from losing the opening set to beat American Eva Siska.
Meanwhile, there was good news for Shrewsbury's Lauren McMinn as she teamed up with Barnett to beat Lauren Bishop and Natalie Hepburn 6-1, 6-3 to reach the last eight in the doubles.
Today's second round action at The Shrewsbury Club starts at 10.30am. Admission for spectators is free throughout the week, including to Saturday afternoon's singles final.