To Have to Shoot Irishmen at Theatre Severn Shrewsbury
3rd November 2018
... Comments
---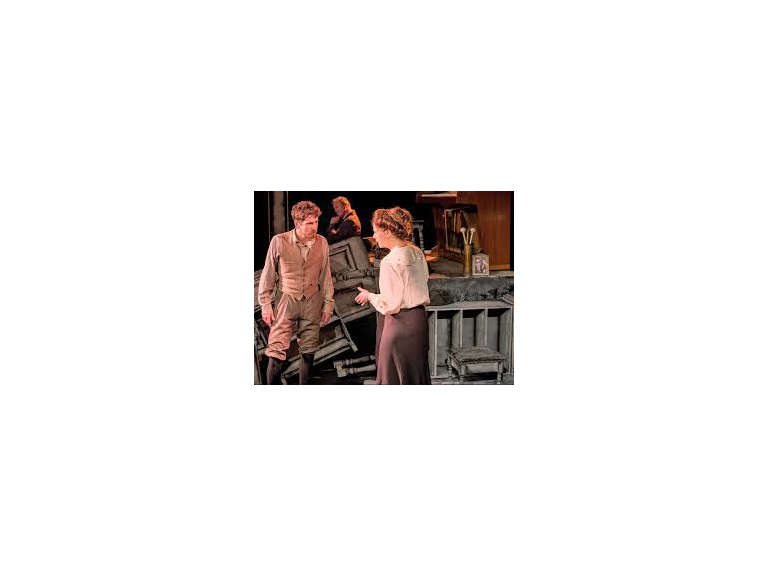 To Have to Shoot Irishmen is the latest work from Lizzie Nunnery and although it was a fairly short play at our Theatre in Shrewsbury, it was such a powerful one.
Produced by Almanac, Nunnery's female-led theatre company, the play is inspired by the story of Irish writer and activist Francis Sheehy-Skeffington, who was killed by the the British military during the Easter Rising in Dublin in 1916. I took my Dad, an Irishman, to see this play and we both found it extremely moving.
The beauty of Nunnery's storytelling technique is her use of original songs to deepen the emotional heft of the story. Nunnery and composer Vidar Norheim fuse simple percussion and strings to create an Irish folk sound, and the lyrics are rich in historical detail.
With just four actors in the cast, Skeffington's story explores his relationship with a guard while in custody as his wife Hanna is confronted by a sympathetic British officer. Themes of national identity and the legacy of military action provide the backdrop, but it's the individual stories that really hit home.
Gerard Kearns makes a persuasive Frank, coaxing his guard into thinking for himself but it's Elinor Lawless as Hanna who owns this production. Her pain, as a young widow and mother brings a raw edge to the play and her horror, wandering through the war-torn streets of Dublin, provides a deeply personal perspective on the atrocity.
A special mention must also go to Robbie O'Neill, who by all accounts is new to actor having been a builder until fairly recently. He was also excellent and at one point there were tears rolling down his face, which was really emotional. 
The cast, received a very well-deserved standing ovation for their efforts. I can't help but think with a little more promotion, this play would get the recognition it is so worthy of.