Time to prepare your touring caravan for the winter
Time spent now preparing touring caravans for winter storage will pay dividends next spring, says an award-winning dealership Salop Leisure.
Every year, technicians at the Shrewsbury-based company are called upon to resolve a range of problems relating to the storage of touring caravans, which could have been avoided.
The frosty weather having arrived, Salop Leisure has issued essential advice for owners on how to keep their tourer in tiptop condition during winter hibernation.
The company is also advising caravan holiday home and luxury lodge owners to drain water systems when they are not in use during the winter to avoid frost damage.
Here are the company's storage and security tips for touring caravans:
Drain down the water to avoid frost damage, making sure there is no residual water in the taps or pipes;

Take the full weight off the tyres, which could stand idle over the winter period;

Charge your on-board leisure battery periodically to sustain its life;

Don't cover the caravan with a polythene sheet as this will cause sweating;

Service the caravan early in the New Year ready for the start of the 2019 caravanning season 
"Our after sales department offers full advice on the best way to winterise a touring caravan," said Andy Davis, Salop Leisure's deputy workshop manager. "I would also advise customers to book their service as early as possible to ensure work is properly carried out in readiness for next year's caravanning season.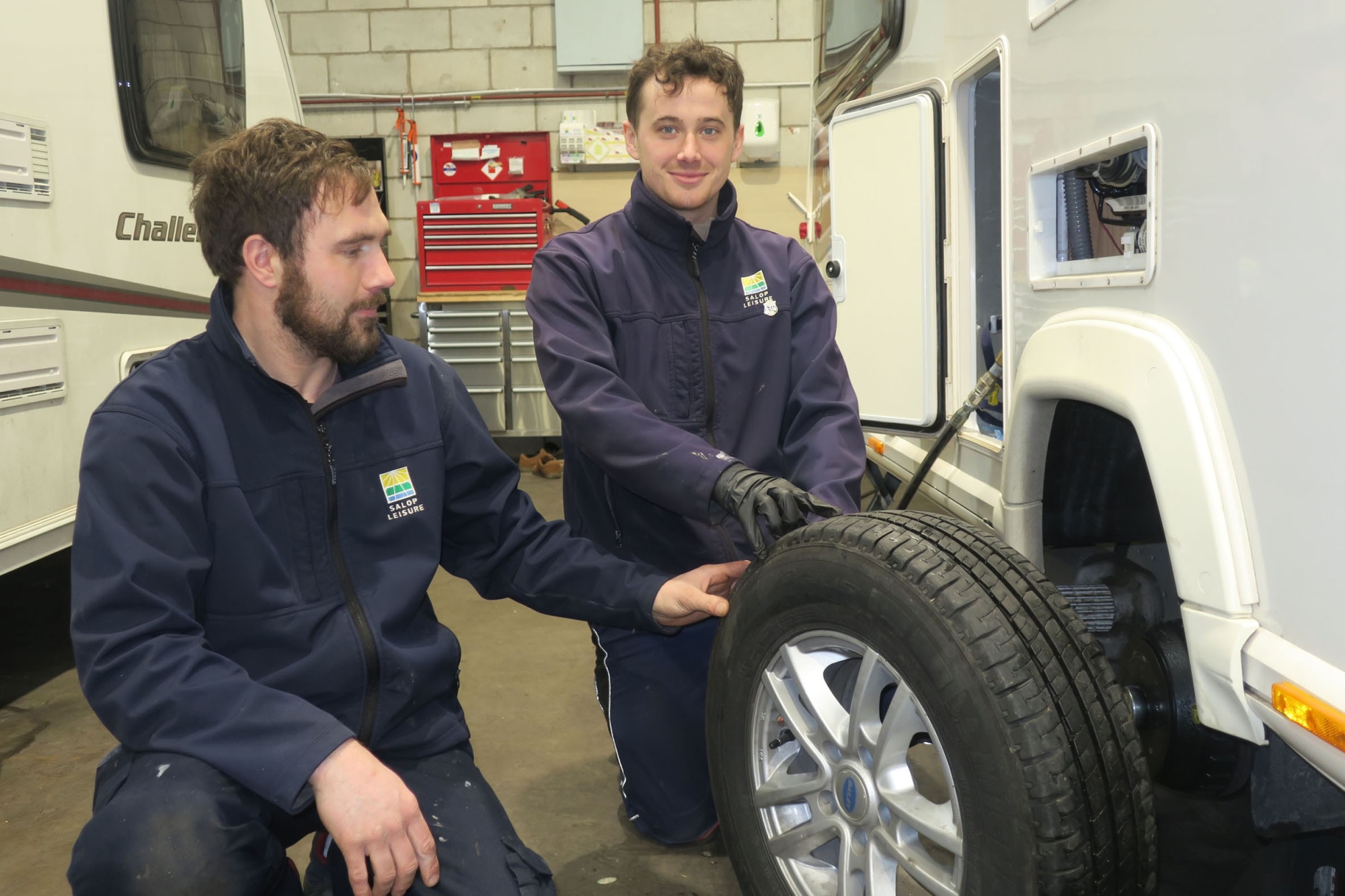 Salop Leisure technicians Tom Hancocks and Nick Wood carry out a pre-storage tyre check on a touring caravan.

"Some people put away their touring caravan and often don't give it a second thought until the day before they want to use it. Our advice is to start preparing for your caravan holiday well in advance.
"Touring caravans give so much pleasure to families but it's essential that they are stored securely and serviced every year before they are reused."
Salop Leisure is now able to provide a complete service to touring caravan and motorhome owners with its secure storage facility at the company's Emstrey headquarters. 
The facility is covered by closed circuit television, has an alarmed barrier fence and is governed by a secure electronic entry system. Each touring caravan or motorhome stored at the facility is given a dedicated pitch and owners are allowed access at any time during daylight hours.
Anyone needing advice about caravan storage or to book a service can contact the company on Tel: 01743 282400.